RECOM: Next-Generation Power Modules Redefining Performance
RECOMs cutting-edge modules revolutionize power management with their compact design, exceptional power density, and outstanding electrical capabilities. They embody the perfect balance of size, power, and efficiency. With remarkable efficiency levels of up to 99%, these modules maximize energy conversion while minimizing losses. Their compact form factor, integrated input and output capacitors, and scalable power options make them a versatile solution for various applications. From 1A to 6A, these modules provide reliable and cost-effective power solutions. With innovative features like thermal optimization, high power density, and exceptional EMC performance, these power modules redefine what is possible in power management. Get ready to experience a new era of power modules that deliver optimal performance, efficiency, and reliability.
RPX ultra-compact QFN-packaged power modules
The RPX power modules feature integrating power transistors, inductors, and essential components. These modules offer fully functional power regulators with short-circuit protection, over-current limiting, and thermal shutdown capabilities. With customizable input and output voltage settings, under-voltage lockout protection, and voltage supply sequencing, the RPX series delivers exceptional electrical and thermal performance at an affordable price. The parts are available from 0.5 to 4A output current.
Some RPX QFN package DC/DC converter series products are now also offered as -Q variants, qualified to automotive standard AEC-Q100 grade 1, for operation up to +125°C. These parts include 'wettable' flanks, which facilitate automated optical inspection of the land-grid array solder joints.
---
---
Compact 3A buck converter in tiny LGA package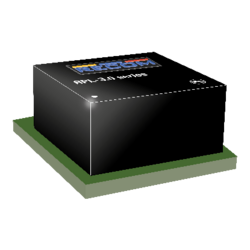 The RPL-3.0 is a compact 3A buck converter in a tiny 3x3mm LGA package. It offers exceptional electrical and thermal performance with adjustable output voltage (0.8V to 5.2V) and a wide input range (4V to 18V). Features include output voltage sensing, on/off control, power good signal, and comprehensive protection against short circuits, over-voltage, over-temperature, and overload. Remarkably, the part is capable of reliable operation at ambient temperatures exceeding 110°C with derating.
Small, low-profile DOSA-compatible converters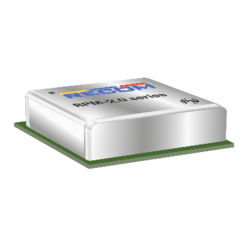 The RPM series are European-manufactured Power Modules offering exceptional efficiency, reaching up to 99%. These SMD modules come in a low-profile land-grid-array package with built-in input and output capacitors, eliminating the need for additional components. With a compact footprint of only 3.75mm, they boast one of the highest power densities in the market. The modules are available in 1A, 2A, 3A, and 6A variants, all sharing the same-sized package for easy scalability. The 6A module stands out with at least 50% higher power density than comparable options, thanks to its innovative IC and multilayered PCB layout. It efficiently dissipates heat, delivering over 800W/in³ at up to 90°C without derating. Additionally, the modules feature a ground plane in the PCB and a metal housing, ensuring excellent EMC performance with 6-sided shielding.
Non-isolated DC/DCs in SMD LGA footprint support inputs up to 36V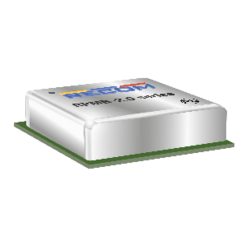 The RPMB series are non-isolated DC/DC converters offering 2A and 3A with adjustable output voltages ranging from 1V to 24V. These converters support input voltages up to 36V. Housed in a compact 12.19 x 12.19 x 3.75mm DOSA-compatible thermally-enhanced LGA package, the RPMB series provides preset output options of 3.3V (trimmable from 1V to 9V), 5V (trimmable from 1V to 9V), 12V (trimmable from 9V to 24V), or 15V (trimmable from 9V to 24V). All variants operate with a low dropout voltage of 500mV or less.
Non-isolated DC/DCs in a compact low-profile DOSA-compatible LGA package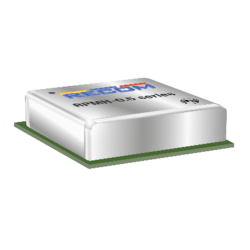 The RPMH series are non-isolated DC/DC converters housed in a compact, low-profile DOSA-compatible LGA package. They offer 0.5A or 1.5A output currents, with trimmable output voltages. The 1.5A version supports an input voltage range of 5-60V, while the 0.5A version operates with an input voltage range of 4.3-65V. These modules are ideal for systems running on nominal 5V, 12V, 24V, or 48V rails.
---
Get in Contact with our Experts