Get Security of Supply and Process Cost Optimization
Tailor-made premium service: our three logistics systems "Delivery plan system", "Kanban" and "Consignment" form the basis of any delivery contract. They can be expanded individually under defined conditions and go far beyond the industry standard. These various ways increase the added value of each product supplied by us.
Delivery systems
As a broadliner, Rutronik generates half its total sales via logistics systems and supports logistics customers worldwide. The orders are prepared and co-ordinated at the company headquarters in Ispringen such that in terms of global operations Rutronik can provide the same standards of service in respect of uniform labels, packaging, notification and much more.
This is based on three standardised logistics systems that are easy to implement: "Deliver Plan", "Kanban" and "Consignment" with fixed defined processes on the flow of information, materials and values. They are adjusted according to customers' requirements in line with the relevant processes, costs and factors, and depending on the respective wishes flexibly combined with system support forecast, ship to line, barcode and many other additional options. The outcome is a tailor-made solution.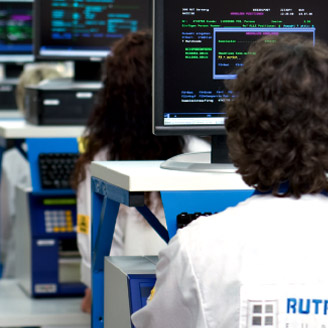 Flexible delivery plan system
Delivery plan processing can be applied to all components, and is suitable for a small number of product numbers. Customers forward their planned figures (forecast) to Rutronik on a rolling basis at fixed intervals. This forecast is the basis for scheduling.
On the basis of the planned figures, Rutronik supplies all divisions within a defined window, and these are "fixed" according to the definition agreed with the customer.
The requirement samples may be irregular.
Avoiding setting up times
Can be used for all components
Highly flexible system (including in the case of requirement changes)
Effective C parts management due to optimised BIN quantities
Minor labour input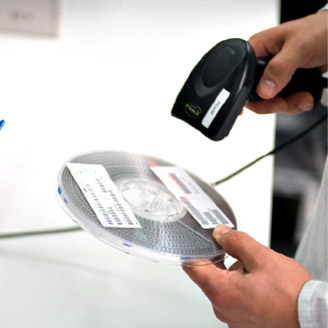 Kanban: "card system" for secure product circulation
Kanban processing is suitable for constant requirements in the case of continual production processes. The Kanban containers are defined in the run-up with a certain filling quantity, likewise their quantity. Each container has a clear identity number. All details on a container (quantity, parts no., warehouse location, recipient warehouse and delivery time etc.) are listed on a "Kanban card". Two containers are in operation as a minimum to guarantee product circulation. As soon as a Kanban container is empty at a customer's premises, the electronic Kanban card is forwarded to Rutronik, the container is refilled and the delivery process starts afresh. The Kanban containers are made available directly at the place of use.
Self-operated control loop
Reduction in material stocks and capital tie-up
Reduction in throughput times
Can be combined with multi-use container system
Consignment warehouse: flexible and reliable
The consignment warehouse is an ideal solution for production subject to short-term fluctuations. While the customer merely provides the storage space, Rutronik provides the goods. Invoices are only written out once goods are withdrawn from the warehouse. Stocks without warehouse evaluation are kept separately. Customers are therefore required to display the warehouse by way of EDP technology, and information can be exchanged electronically. Various models are available for filling the consignment warehouse, such as consumption-controlled min/max filling or requirement-controlled via forecasts.
High availability and supply security
Low processing input
Reduction in the capital tie-up
Vendor managed inventory (VMI)
Centralised inventory controlling via our specialist department