Rutronik Development Kit - RDK3
Realizing Secure Wireless Applications
Wireless, intelligent connectivity of individual elements or work processes becomes more crucial. Working steps and objects interact with each other intelligently only with the help of networked systems. That's where the RDK3 comes into play. The aim of the developers from Rutronik System Solutions was to develop a complete solution for Wireless Low-Power Bluetooth connections with high-security features and very low power consumption. The Base Board enables hardware and firmware developers to reduce time and costs in the pre-development phase. This way, it supports bringing new applications much faster to the market.
Flexible Use in High-Growth Future Markets
The RDK3 from Rutronik System Solutions offers developers a perfect starting point for developing their proof-of-concepts for connectivity via Bluetooth. The possible applications are diverse. For example, the Base Board suits a wide range of IoT and cloud-based applications in high-growth future markets. These include Advanced Robotics, Smart Building, Smart Factory, and Healthcare. The integration of Rutronik System Solutions' software into Infineon's ModusToolboxTM supports the variability. As a result, one development environment is available to realize efficiency gains.
"With the RDK3, we offer a flexibly usable solution in a growth market. Our new Base Board supports embedded developers in Wireless Low-Power Bluetooth connections to accelerate their developments and reduce costs."
- Stephan Menze, Head of Global Innovation Management at Rutronik
Advantages of the RDK3 at a glance: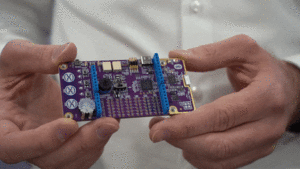 Provides a complete solution for hardware and firmware developers to design their own proof-of-concepts
State-of-the-art security features thanks to Infineon's PSoCTM 64 Secured MCU
Low power consumption through the use of Bluetooth Low-Energy technology
Reduces costs and accelerates the pre-development phase
Unique combination of state-of-the-art components, all available in Rutronik's product portfolio
Experts from Rutronik System Solutions are on hand to provide advice
Thanks to the Arduino interface, the RDK3 can be combined with all other adapter boards from Rutronik System Solutions such as the HMS Anybus, Text To Speech, RAB1 and RAB2
Rutronik Solutions Level 3 – Advanced Design Level
Unique Combination of Components
What makes the RDK3 so unique? The answer is simple: The combination of state-of-the-art components on just one board by the experts at Rutronik System Solutions. There is no comparable solution on the market. Performance, availability, and perfect interaction were the key factors in the selection of the components. In addition, Rutronik System Solution provides software stacks that allow tests in an uncomplicated way.
Security plays a key role in wireless applications. To ensure, the RDK3 builds on Infineon's PSoCTM 64 Secured MCU with a Platform Security Architecture (PSA). The dual-core microcontroller features three-level hardware and firmware-based isolation. The Arm Dual-Cortex M-Core SOC provides a secure M0+core and performs all security functions. It's separated from the user applications running in parallel on the Arm Cortex-M4 core. In addition, the MCU provides secure elementary functions for authentication, e. g. via secure onboarding, secure boot, and secure firmware updates.