PROFET™+2
High-side Switches for Energy Efficiency and Miniaturization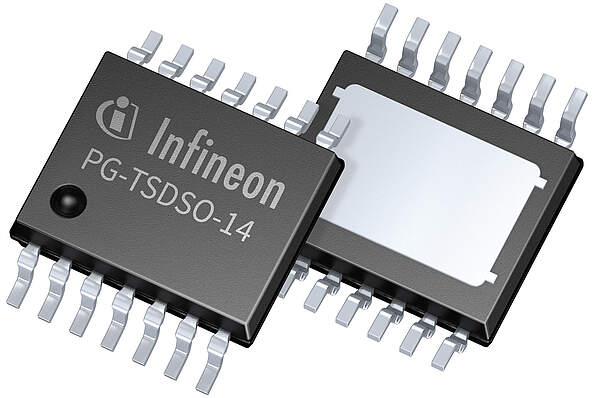 The Newest PROFET™+2 family of protected high-side power switches (8mΩ to 200mΩ) in PG-TSDSO-14 exposed pad package provides state of the art diagnostics and protection features.
The family offers Market 1st BEST form factor, the lowest RDS(ON) (2x8mΩ)/ Smallest package (PG-TSDSO-14) pin pitch 0.65mm.
The whole family is compatible with the hardest reverse battery requirement on the market, with ReverSave™ available for the 1st time in Market on a single chip product!
The family offers outstanding energy efficiency with reduced current consumption, state of the art current sense accuracy (KILIS ), benchmark low cranking voltage capability and faster switching/slew rate with no impact on EMC!
50% reduced internal operating current consumption
Simplified & cost efficient ground network
Outstanding current sense accuracy (KILIS ) ≤ 5% @ nominal load current
Benchmark cranking voltage capability able to work down to 3.1 V
Smaller package size for area savings
Optimized for design flexibility across the family by pin to pin compatibility
Very low output leakage current (≤ 0.5 μA up to 85°C)
Automotive 12 V lighting load applications capacitive loads e.g. halogen bulbs and LED modules
Resistive loads e.g. small seat heating applications requiring below 8A nominal currents
Operating voltage range 3.1-28 V with 3.3 V and 5 V compatible logic input
Protection: current tripping, over temperature, overvoltage, load dump, reverse polarity, short-circuit
Diagnosis: load current sense output