Apacer Massproduce Full Range of DDR4-3200 Wide Temperature Memory Modules
Apacer innovates again by announcing mass production of a full range of industrial-grade DDR4-3200 wide-temperature memory modules by using Samsung's original wide-temperature grade chips to support cutting-edge platforms including AMD's Ryzen™ Embedded V2000 processor and Intel's Tiger Lake and Elkhart Lake.
Apacer drew on over 20 years of experience to create a full range of DDR4-3200 modules in the UDIMM, SODIMM, ECC UDIMM, ECC SODIMM, and RDIMM form factors. 8GB, 16GB and 32GB capacities are all available. Value-adding features such as anti-sulfuration, conformal coating and underfill can all be added to protect them from corrosion, moisture, vibration, dust and thermal shock. From end to edge to cloud, Apacer's full range of wide-temperature memory modules will significantly improve the stability and reliability of systems for long-term operation in harsh environments.
Apacer is one of the few industrial memory manufacturers that insists on using original factory-specification wide-temperature ICs, and strictly selects top-quality materials (DRAM, PCB, Resistors, and Capacitors) to ensure products operate smoothly at temperatures as low as -40 degrees C or as high as +85 degrees C. By using industrial-grade wide-temperature-range passive parts with 30μ" gold plating PCB, it improves anti-oxidation and ensures stability of signal transmission. A full range of DDR4-3200 module have passed industrial verification testing for high/low temperatures and the most stringent 48-hour thermal cycling test, ensuring their ability to operate for long hours in extreme environments.
Applications: AIoT / Outdoor Embedded and Edge Devices / Networked Communication Systems / Telecommunication Systems / Cloud Equipment
DRAM - DDR4 3200 Wide Temperature UDIMM
On-DIMM thermal sensor : No

Package: 288-pin socket type dual in-line memory module (DIMM)

PCB: height 31.25mm, lead pitch 0.85mm (pin)

VDDQ = 1.2V (1.14V to 1.26V)

Average refresh period

7.8µs at 0°C ≦

TC

≦

85

°C

3.9µs at 85°

C

≦

TC

≦

95

°C

Lead-free (RoHS compliant)

Halogen free

Operating case temperature range: Industrial (-40°C ≤ TC ≤ +85°C)

PCB: 30μ gold finger

Conformal coating/Underfill (optional)
DRAM - DDR4 3200 Wide Temp. SODIMM
On-DIMM thermal sensor : No
Package: 260-pin socket type small outline dual in-line memory module(SO-DIMM)
PCB: height 30.0mm, lead pitch 0.50mm (pin),
VDDQ = 1.2V (1.14V to 1.26V)
Average refresh period
7.8µs at 0°C ≦ TC ≦ 85°C
3.9µs at 85°C ≦ TC ≦ 95°C
Lead-free (RoHS compliant)
Halogen free
Operating case temperature range: Industrial (-40°C ≤ TC ≤ +85°C)
PCB: 30μ gold finger
Conformal coating/Underfill (optional)
DRAM - DDR4 3200 Wide Temp. RDIMM
Support ECC error detection and correction
On-DIMM thermal sensor: Yes
Package: 288-pin socket type dual in-line memory module (REG DIMM)
16 internal banks
VDDQ = 1.2V (1.14V to 1.26V)
TC of 0°C to 85°C
64ms, 8192-cycle refresh at 0°C to 85°C
32ms at 85°C to 95°C
Lead-free (RoHS compliant)
Halogen free
Operating case temperature range: Industrial (-40 °C ≤ TC ≤ +85°C)
PCB: 30μ gold finger
Conformal coating/Underfill (optional)
DRAM - DDR4 3200 Wide Temp. ECC UDIMM
Support ECC error detection and correction
On-DIMM thermal sensor : Yes
Package: 288-pin socket type dual in-line memory module (ECC UDIMM)
PCB: height 31.25mm, lead pitch 0.85mm (pin),
16 internal banks (4 bank groups)
Average refresh period
7.8µs at 0°C ≦TC ≦85°C
3.9µs at 85°C ≦TC ≦95°C
Lead-free (RoHS compliant)
Halogen free
Operating case temperature range: Industrial (-40°C ≤ TC ≤ +85°C)
PCB: 30μ gold finger
Conformal coating/Underfill (optional)
DRAM - DDR4 3200 Wide Temp. ECC SODIMM
Support ECC error detection and correction
On-DIMM thermal sensor : Yes Package: 260-pin socket type small outline dual in-line memory module (ECC SO-DIMM)
PCB: height 30.0mm, lead pitch 0.50mm (pin)
Power Supply: VDD=1.2V (1.14V to 1.26V)
16 internal banks (4 bank groups)
Average refresh period
7.8µs at 0°C ≦ TC ≦ 85°C
3.9µs at 85°C ≦ TC ≦ 95°C
Lead-free (RoHS compliant)
Halogen free
Operating case temperature range: Industrial (-40 °C ≤ TC ≤ +85°C)
PCB: 30μ gold finger
Conformal coating/Underfill (optional)
Value-added Technologies: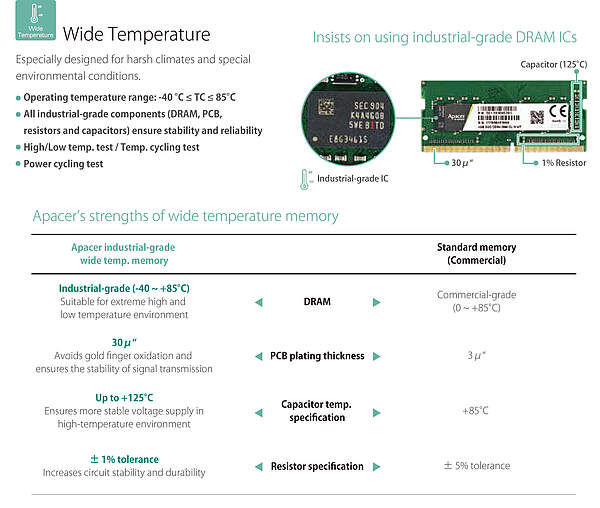 Apacer Industrial DRAM Solutions
---