Melexis Hall Latch and Switch: 20+ Years of Innovation
While inherently basic devices, Melexis' extensive latch and switch portfolio is continually growing to match and exceed the functional, flexibility, safety and power consumption needs of today's applications. Our focus on CMOS technology and TSOT packaging are just as valid today as they were 20 years ago. Countless successes have been obtained in smart appliances, consumer devices, building automation, energy, industrial, medical, transportation and automotive markets.
---
The Hyper Flexible Pre-Programmed Latch and Switch ICs are the Latest Additions to the Extensive Product Family to Exactly Match your Requirements
Why consider a pre-programmed latch or switch?
These devices offer the exactly right and precise parameters for your application. No need to make compromises by choosing an approximate match: Melexis programs the exact magnetic parameters you need. Both orthogonal and planar field versions are available for every device. Minimum volumes apply.
You want to minimize your total cost? Did you consider PCB-less designs, lower cost TSOT devices (lower cost of SMD versus through-hole assembly) and additional economies of scale?
Your current latch or switch is end-of-life? We offer the exactly matched replacement in a small TSOT or through-hole package. No minimum volumes apply for replacements.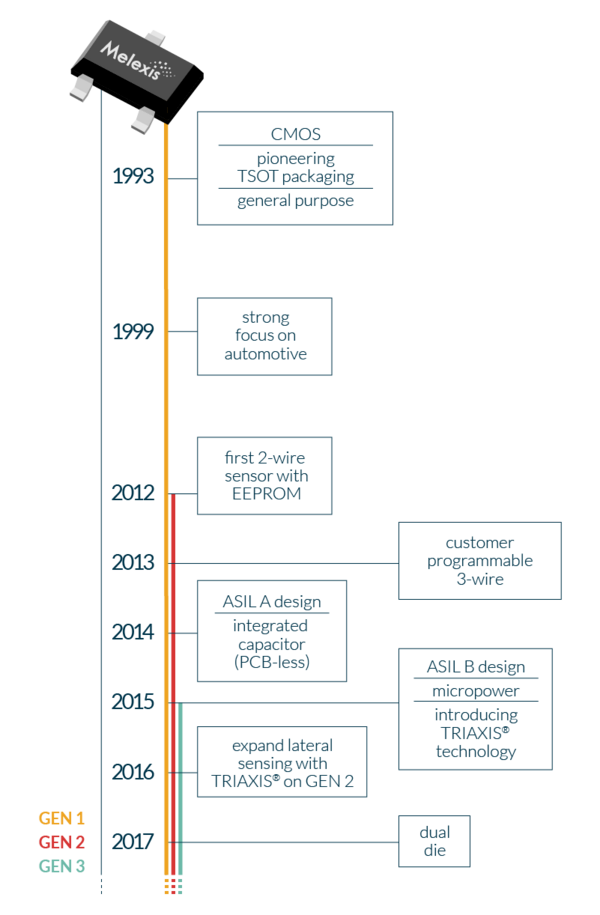 The Right Pre-Programmed Sensor for any Application
Parameters that Melexis programs for you:
Bop, Brp, hysteresis
Magnet temperature coefficient
North or south detection
Output polarity
2-wire or 3-wire
Latch or switch
SMD package or through-hole package
Orthogonal (standard) or lateral magnetic field detection (new)
Integrated decoupling capacitor (PCB-less modules for 2-wire devices)
Additional benefits for automotive applications:
Robustness, operating temperature versions up to 150degC
ASIL A and B functional safety versions (ISO26262)
Micropower versions, e.g. for direct connection to the battery
Triaxis® technology offering lateral magnetic field detection versions
Dual die versions
Key Specifications MLX92211/21/31/41
High magnetic sensitivity
Wide magnetic latch range: ±0.4mT to ±80mT
Wide magnetic switch range: ±1.5mT to ±66mT
Programmable hysteresis: 0mT to 36mT
Programmable magnet TC coefficient: 0 to -2000 ppm/deg
Wide operating voltage range: from 2.7V to 24V
Pre-Programmed and Programmable Portfolio
MLX92215
3-wire latch
designed for industrial, medical and consumer applications
---
---
MLX92221
2-wire latch
pre-programmed latch
option: integrated capacitor for PCB-less usage
ASIL A ready
---
---
MLX92241
2-wire switch
pre-programmed
option: integrated capacitor for PCB-less usage
ASIL A ready
---
MLX92232
3-wire latch/switch
programmable
allows end-of-line calibration to reduce mechanical tolerances for highly reliable and accurate switching thresholds
---
---