Environmental Sensing
We measure the key environmental parameters
Environmental conditions have a major impact on our well-being, comfort, and productivity. Sensirion's sensor solutions provide detailed and reliable data on key environmental parameters such as humidity, temperature, volatile organic compounds (VOCs), particulate matter (PM2.5), and CO2. Environmental Sensing opens up new possibilities to create smarter devices that improve our comfort and well-being as well as increase energy efficiency in a wide variety of applications.
Sensirion accompanies you through the entire product development process, from the initial idea to product launch and beyond. The expertise ranges from prototype construction, design-in support and use-case development to inline testing at the mass production stage.
Multi-Pixel Gas Sensor SGP30
Accurate measurement of indoor air quality
Traditional metal-oxide gas sensors suffer from poor long-term stability. This degradation is caused through contamination by certain chemical compounds like siloxanes which are ubiquitous in real-life applications. Our gas sensor solves this long-standing stability problem
The digital gas sensor SGP30 opens up new possibilities for the measurement of indoor air quality. The long-term stable metal-oxide gas sensor features multiple sensing elements on one chip, the SGP30 provides in-depth information on air quality. The sensing element features an unmatched robustness against contaminating gases present in real-world applications, enabling a unique long-term stability and low drift. The small package size (2.45 x 2.45 x 0.9 mm DFN), the I2C interface, and the dust and water protection membrane make the SGP30 easy to integrate into a large variety of applications, e.g. in appliances or smart home devices.
---
Indoor Air Quality & Volatile Organic Compounds
The widespread use of new products and building materials has resulted in increased concentrations of indoor pollutants, in particular volatile organic compounds (VOCs). Many of these compounds are known to impair well being and productivity. Sensirion gas sensor solutions monitor these indoor air pollutants.
Improve Your Quality Of Life
Most of us spend much of our time indoors. The air that we breathe in our homes, in schools and in offices can put us at risk for health problems. The widespread use of new products and building materials has resulted in increased concentrations of indoor pollutants, in particular volatile organic compounds (VOCs). Simple actions can improve your life.
---
Digital Humidity Sensor SHT3x (RH/T)
By pioneering digital humidity sensors 15 years ago, Sensirion has defined an industry standard with the SHTxx series. The new digital SHT3x humidity sensor series takes sensor technology to a new level and sets the next industry standard.
It consists of a low-cost version with the SHT30 humidity sensor, a standard version with the SHT31 humidity sensor, and a high-end version with the SHT35 humidity sensor. The SHT3x humidity sensor series combines multiple functions and various interfaces (I2C, analog voltage output) with a applications-friendly, very wide operating voltage range (2.4 to 5.5V).
The SHT3x offers a range of new features, such as enhanced signal processing, two distinctive and user-selectable I2C addresses, an alert mode with programmable humidity and temperature limits, and communication speeds of up to 1MHz. The DFN package has a footprint of 2.5 × 2.5 mm with a height of 0.9mm. This allows for integration of the SHT3x into a great variety of applications. Additionally, the wide supply voltage range of 2.4 to 5.5V and variety of available interfaces guarantee compatibility with diverse integration requirements.
---
---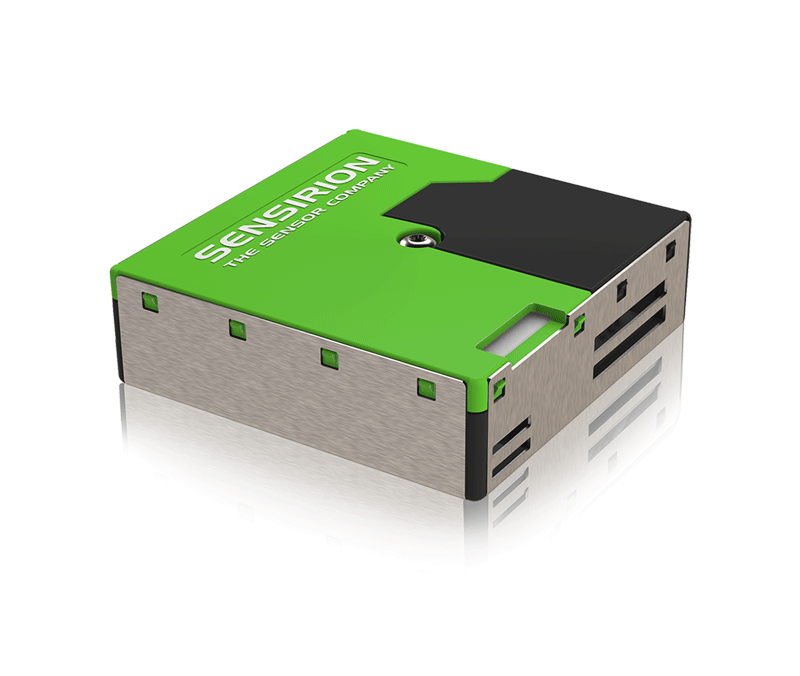 Sensirion's forthcoming PM2.5 sensor will define new market standards for accurate and reliable detection of PM2.5 and PM10. PM2.5 and PM10 refer to particulate matter with particle diameter up to 2.5 microns and 10 microns, respectively, and are among the most dangerous air pollutants. Due to their small size, PM2.5 particles can travel deep into the human lung and cause a variety of health issues; for instance, by triggering asthma attacks or contributing to cardiovascular disease. With this new particulate matter sensor, Sensirion expands its range of environmental sensing solutions and opens up a new dimension in indoor and outdoor air quality applications.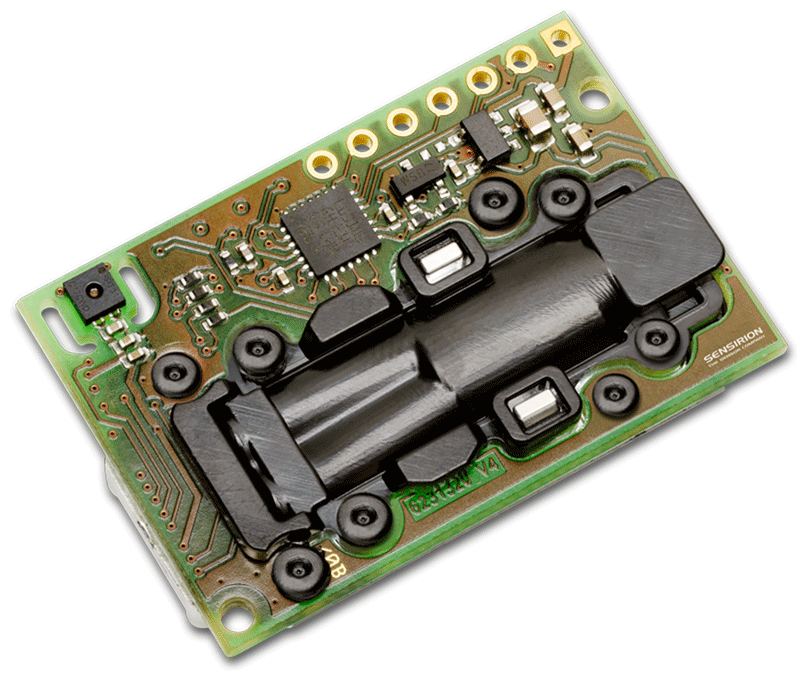 Houses have become increasingly energy-efficient, but the air quality can deteriorate rapidly. Carbon Dioxide is a key indicator for indoor air quality. Sensirion sensor solutions offer an accurate and stable monitoring of CO2 in the air, as well as temperature and humidity. CMOSens® Technology for IR detection enables carbon dioxide measurements of the highest accuracy at a competitive price. Along with the NDIR measurement technology for detecting CO2 comes a best-in-class Sensirion humidity and temperature sensor integrated on the very same sensor module. Ambient humidity and temperature can be measured by Sensirion's algorithm expertise through modelling and compensating of external heat sources without the need of any additional components. The very small module height allows easy integration into different applications
---