New EEH-ZE Series Conductive Polymer Hybrid Aluminum Electrolytic Capacitors
Panasonic Expands Its' Hybrid SMD Aluminum Electrolytic Capacitor Line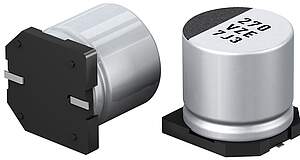 Panasonic's NEW EEH-ZE Series Hybrid SMD Capacitors Withstand High Temperature And High Current
Panasonic, a worldwide leader in Capacitor Products, announces the New EEH-ZE Series Conductive Polymer Hybrid Aluminum SMD Electrolytic Capacitors. Panasonic Hybrid Capacitors, combining the advantages of Electrolytic Capacitors with those of solid Polymer Capacitors, have established themselves as reliant and across-the-board solutions in Automotive and Industrial applications alike.
The New EEH-ZE Series (Type V-ZE) Hybrid Aluminium Electrolytic Capacitors are ultra-high-temperature Capacitors that have an endurance of 2,000 hours at 145°C. These Surface-Mount Conductive Polymer Hybrid components offer a nominal capacitance range of 33µF up to 330µF, at voltage ranges from 25VDC up to 63VDC, and feature an operating temperature range of -55°C up to 145°C, as well as low ESR and high ripple current. The products are AEC-Q200 compliant, can endure high humidity conditions rated at 85°C/90% - 2,000h while offering tiered ripple current ratings at 135°C and 145°C. The New EEH-ZE Series features one of the highest endurance ratings in the industry allows 2,000 hours at 145°C and 4000 hours at 135°C. AEC-Q200 qualification ensures optimal quality and reliability. Panasoic's New Hybrid Capacitors are ideal for a broad spectrum of applications including input/output filtering in power converters and voltage regulators, power and battery decoupling and clock circuitry. Their endurance and low ESR makes them ideal for use in automotive applications, servers, base stations and industrial PCs, yet they are small enough for wireless and IoT designs.
---
---
High Temperature / Long Life: 2000 Hours at 145°C
Minimum 8000 Hours at 115°C and 16000 Hours at 105°C (If All Recommended Specifications Are Followed)
High Temperature Lead-Free Reflow
High Capacitance and High Ripple Current
Low Leakage Current
Operating Temperature Range: -55 °C to +145 °C
High Rated Voltage Range: 25 to 63 V.DC
Vibration-Proof Product Available Upon Request (Ø8 mm and Larger)
RoHS / REACH Compliant
AEC-Q200 Qualified
Extremely High Endurance Ratings
Vibration Variants Can Withstand Shocks Of As Much As 30G. Standard Parts Can Withstand 10G Maximum.
AEC-Q200 Compliance ensures strict quality control standards are being enforced.
Automotive
Power Supply
Industrial
DC/DC Converters
AC/DC Converter
Under-The-Hood Applications (135°C)
DC Side Of Both Inverter And Rectifier Circuits