Intel® SSDs – A Reliable SSD Solution Provider to Meet and Exceed Tomorrows Challenges
If the latest market research and trend analysis from Cisco in the field visual networking turns into reality, then we are bound to experience a substantial increase in data creation by 2020. According to Cisco's latest research a city of one million will generate 200 million gigabytes of data per day by 2020. Furthermore, approximately 600ZB of data will be generated by 2020 with 10 percent (60ZB) representing useful data that will be stored on a permanent basis. Consequently, the need for storage and memory solution providers, such as Intel®, that can deliver drive reliability, uncompromised data integrity and consistent performance where it matters will be even more important in the future than ever before.
What Makes a Smart City?
Multiple Applications Create Big Data
---
The Evolution of NAND Flash Memory
Flash memory has been a disruptive technology from its industrial inception in the early '90s and innovation is still ongoing after more than 25 years. At the beginning it was NOR flash and Intel® was the key player. Today the most advanced storage products use NAND flash. Thanks to its storage density, NAND has changed our lives. Through continuous development, investments and improvements by flash vendors such as Intel®, the technology has become a consumer product, which allows the production of ultra-slim notebooks and save up to 2TB of data on a USB-Stick.
Storage density has been further improved by introducing a third NAND dimension: multilevel storage. In practice, each single physical cell can contain more than one bit of information. Single Level Cells (SLC) can store 1 bit per cell, Multi-Level Cells (MLC) can store 2 bits per cell, while TLC refers to cells that can store 3 digital bits. Quadruple Level Cells (QLC) will become a reality relatively soon with Intel® planning to release a NAND that can store up to 4 bit per cell in Q3 2018.
However, this was not enough for a market that demands products with high storage density. For example the release of thin smartphones brought along severe space constraints. Their impressive selling volumes forced the market to find another storage dimension (the fourth one): multi-die stacking. In other words, several pieces of silicon are stacked inside a single physical package, one on top of each other.
In 2013, the fifth storage dimension in the history of flash was introduced: 3D NAND. 3D NAND are multiple layers (currently up to 48) of memory cells that are grown within the same piece of silicon. 3D is a new technology, not only because of its multi-layer architecture, but also because it is based on a new type of NAND memory cell.
Intel®: Pioneering and Leading the Way in the Flash Technology Market
From a manufacturing point of view the existing flash cells have reached their maximum shrinking potential. A flash cell size that initially started out with a size of 350nm in 1997 has in recent years evolved to a cell size of 12nm. On the one hand the shrinking process enabled manufacturers to produce more flash cells on a single wafer, which arguably led to lower prices for flash and enabled manufacturers to produce chips with higher capacities. However, the shrinking process also brought along several technical limitations to manufacturers. With the shrinking of the flash cells the number of electrons becomes substantially less. This in turn leads to a radically lower count of electrons, which has to be compensated by creating more sophisticated firmware and technology to sustain the reliability, endurance and data retention of the final Solid State Drive (SSD) product. Intel®'s solution to the limitations of shrinking: Layering the cells on top of each other!
Transitioning from 2D to 3D NAND TLC 64-Layers
3D NAND 64-Layer Technology
Intel® is the first company to market the new 3D NAND 64-Layer technology. The technology behind this is just as it sounds - 64 layers of storage stacked on top of each other. Intel®'s 3D NAND uses a 'floating gate' architecture, which is manufactured on a high-volume process. This architecture is capable of the best areal density and provides room for scalability in the future. It works by using a smaller cell size and placing control logic under the memory array. The structure consists of multiple layers of flash cells while being able to store three bits per cell. Just like a skyscraper can shelter more people in comparison to a single story house, so too can a 3D-NAND flash cell store more data than a 2D flash cell. By having better areal density, Intel® can scale to larger capacities by delivering more gigabytes per wafer. As a result of this innovative technology Intel® can produce SSD drives that can go all the way up to 64TB! The price to performance ratio is the key advantage of the technology while at the same time delivering consistently more performance, using less power, and offering great reliability over time. Overall, Intel®'s 3D NAND solutions are a cost effective and technological upgrade that delivers noticeable value.
Scale to Bigger Capacities
Up to 11% higher areal density on the flash cell itself in comparison to other flash manufacturers
More GB per wafer
Up to 1.2x more GB/mm² per flash cell
Up to 7x bits per wafer
Outstanding Data Integrity
Reduction in Raw Bit Error Rate (RBER)
Improved data retention
Improved data cycling
Improved SSD endurance values
Unprecedented Performance
Up to 1.3x faster read and write performance
Reduced drive latency
Outstanding and consistent queue depth values right from the start
Improved power saving efficiency
---
Intel® Optane™ with 3D-XPoint Technology – Breakthrough in Flash Technology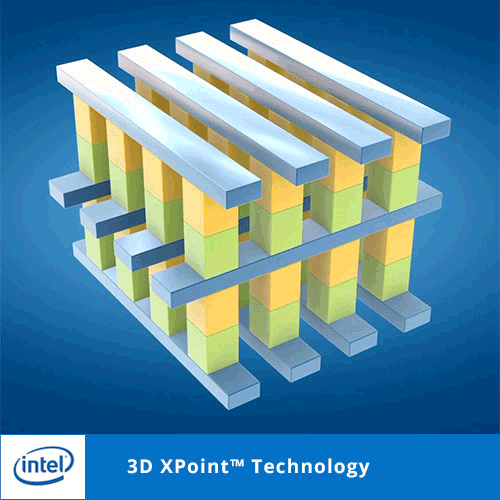 3D-XPoint Flash Technology
Intel®'s latest innovation is the 3D-XPoint Flash technology, which is a breakthrough that creates a new class of memory that greatly reduces the cost, performance and power trade-offs that most system builders make when they design storage and memory solutions. 3D-XPoint is a unique constellation of advanced materials with a cross point structure that resembles a three dimensional chess board and does not include a single transistor. 3D-XPoint functions as a cache system for your primary storage drive, storing necessary data, similarly to RAM, but holding on to the data between restarts. The booting of programmes and software is as fast as a DRAM while at the same time having the feature of saving data permanently like a SSD and HDD.
In essence, 3D-XPoint offers the best of both technologies: Permanent storage (non-volatile memory) and fast working memory (volatile memory).
---
Intel® Solid State Drives
Solid State Drives (SSDs) have emerged as the new benchmark application for flash. SSDs set the new standard for storage performance, stability, efficiency, and low power consumption.
SSD have multiple advantages in comparison to Hard Disk Drives (HDDs):
Electrical non-volatile memory storage technology
No moving and rotating parts
Noiseless operation
Robust against shocks and vibrations
Fast access times
Reduced delay and latency
Smaller form factor dimensions
Light
Power efficient
Fast random and sequential read and write performance

With multiple advantages over HDDs, Intel®'s rugged SSDs are ideal for multiple industry and use-case scenarios. Whether the SSDs are to be used in a consumer, enterprise, professional or embedded application - Intel® offers a vast product portfolio with a range of solutions, state of the art technology and top of the class quality and reliability.
Best of all - Intel® SSDs are backed by 5 years warranty.
---
Intel® 545s
The Intel® 545s consumer SSD is the first product in the market which features the newest 64-Layer 3D NAND TLC (3-bit-per-cell) flash technology. The new 64-Layer 3D NAND technology enables the production of SSDs with higher capacities while at the same time reduce the price per GB dramatically. This makes the 545s a cost-effective and reliable replacement for traditional hard disk drives (HDD). Moreover, the 545s, fitted with the newest NAND technology, has higher read and write performance in comparison to traditional HDDs while at the same time delivering noticeable improvements in boot and application load times. Overall, the Intel® 545s series delivers uncompromising value and performance for your consumer and semi-industrial applications.
| | |
| --- | --- |
| Consumer | Semi-Industrial |
| High-End Computing | Digital Signage |
| Performance Gaming | POS, Kiosk, Vending, etc. |
| Workstation | Medical Technology |
| Digital Content Creation | Security Technology |
| Engineering: FEA, Fluid Dynamics, CAD | Automation Engineering |
| Mobile Computing | Access Controls |
| | Metering |
| | Weighing Technology |
Boost PC performance by replacing your HDD with an Intel® SSD 545s
Reliable Quality - Every Intel® SSD is subject to rigorous testing standards above and beyond the standard quality requirements
Easy Upgrade or Install - With Intel® Data Migration Software, you can conveniently copy data form your old drive to a new SSD
Industry leading innovation - the 545s features 64-Layer 3D NAND technology
Intel® quality and reliability - backed by 5 years warranty
| | |
| --- | --- |
| Enhanced Power Loss Data Protection | No |
| Hardware Encryption | AES 256bit |
| High Endurance Technology (HET) | No |
| Temperature Monitoring and Logging | No |
| End-to-End Data Protection | Yes |
| Intel® Smart Response Technology | Yes |
| Intel® Rapid Start Technology | Yes |
| Intel® Remote Secure Erase | No |
---
If the latest market research and trend analysis from Cisco in the field visual networking turns into reality, then we are bound to experience a substantial increase in data creation by 2020. Applications connected to the Internet already generate vast amount of hot and cold data and require a storage medium to save and access the data. Intel® provides future proof solutions for enterprise infrastructure with extraordinary performance and reliability. Intel® SSDs enable you to keep up with the ever-increasing demands of the data center with products that provide drive reliability, uncompromised data integrity and consistent performance in critical working environments.
DC S4500 and S4600 - Packed with Deep Feature Sets and Intel®'s Newest 3D NAND SSD
The S4500 and S4600 – the newest member of the 2nd Generation Intel® 3D NAND SSD family – are a storage inspired SATA SSD optimized for read-intensive workloads. Featured with a new Intel®-developed SATA controller, innovative SATA firmware, and the industry's highest density 3D NAND, the Intel® SSD DC S4500 and DC S4600 Series will enable data centers to optimize legacy infrastructures and help your business to reduce costs, increase server efficiency, and improve data reliability.
For years, Intel® has been a leader in providing trusted data center SSDs that maximize data continuity in enterprise and cloud data centers. That reputation continues with the Intel® SSD DC S4500 Series with key capabilities that help ensure more uptime:
Consistently delivers durable performance to optimize service level continuity
End-to-end data protection that helps to keep data safe – even in the event of a power loss
Up to 3.2x lower annualized failure rates (AFR) in comparison to HDDs, which lead to fewer drive replacements
Innovative firmware that completes updates without server reset and reduces the amount of downtime
Simplified configurations reduce risk of component failure and streamline maintenance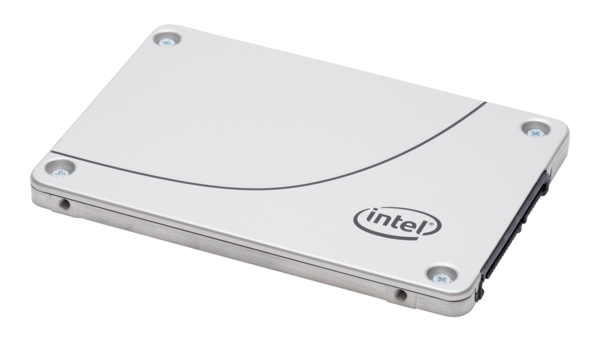 New Intel® SATA controller in the S4600 delivers up to 30% faster mixed workloads, increasing service delivery and efficiency
Reduced power demand and cooling requirements by up to 3.2x, lowering operational costs that scale across the data center
A variety of capacities, from 240GB up to 4TB, in a standard 2.5-inch form factor that enable data centers to significantly increase data stored per rack unit and improve server agility substantially (IOPS/TB) when replaced with HDDs
An Annualized Failure Rate (AFR) of up to 3.2x lower in comparison to HDDs
Industry-leading memory media: 2nd Gen Intel® 3D NAND SSD family, featuring TLC 3D NAND
| | |
| --- | --- |
| Enhanced Power Loss Data Protection | Yes |
| Hardware Encryption | AES 256bit |
| High Endurance Technology (HET) | No |
| Temperature monitoring and logging | Yes |
| End-to-End data protection | Yes |
| Intel® Smart Response Technology | No |
| Intel® Rapid Start Technology | No |
| Intel® Remote Secure Erase | No |
---
Ruler Form Factor – P4500 (8TB)
Intel® developed a new form factor class with the primary use-case target towards data centers - the "Ruler" also known as Enterprise & Datacenter Storage Form Factor (EDSFF). The "Ruler" form factor was designed to fully optimize rack efficiency while at the same time offer a solution that deals effectively with the data-centric world.
In comparison to traditional Solid State Drive form factors (2.5-inch, M.2, and Add-In-Cards) the Ruler delivers unparalleled space-efficient capacity. The efficient thermal design allows a smart consolidation of storage devices into a single storage server rack while at the same time reducing the energy footprint, which significantly improves the operational efficiency.
Moreover, the revolutionary design makes the ruler easy to maintain. The ruler form factor is hot pluggable, hot removable and is fitted with LEDs that indicate the status of the device, which improves the total manageability in a large scale.
---
Space Conscious Dimensions
Space efficient capacity per Drive
The space conscious and efficient drive design has a width of 9.5mm, length of 323.35mm and a height of 38.6mm. This design enables the accommodation of up to 36 media sites on a single drive and is optimized for 1U server designs.
Storage density per Server
The space-efficient capacity of the ruler form factor can be highlighted in the designated use case in a 1U Intel® AF1000 server. The AF1000 can fit up to 32 Intel® ruler SSDs per server. The P4500 is currently the only series that offers the ruler form factor and is available in two capacities - 4.0TB and 8.0TB. Consequently, when the 1U server is fully utilized with 8.0TB ruler SSDs, the server can reach a Terabyte (TB) per rack storage volume of up to 256TB.
In the near future Intel® is planning to release a 3D NAND based 32TB ruler SSD. This would result in a TB per rack storage volume of over 1PetaByte (PB) in 1U server! This is opening new use cases in warm storage with disruptive total cost of ownership.
Space Efficient Capacity
Storage density optimized design delivers higher per drive capacity
1U optimized form factor delivers up to 32 drives per U for higher per server capacity
In a data center environment serviceability and thermal efficiency are key variables to improve operations and drive down the total cost of ownership (TCO). The ruler form factor fulfils these requirements by allowing an unhindered airflow and being fitted with a connector "sail" that is located behind the drive and connects down to the horizontal backplane. This design eliminates the possibility of blocked airflow, which can be the case with vertical backplane designs. Moreover, internal studies show that due to the large surface area of the drive the ruler form factor is 55% more thermally efficient in comparison to a U.2 15mm device.
Changing from a traditional legacy form factor (Add-In-Card, U.2, and M.2) to the ruler form factor enables customers to reduce capital expenditures for servers by up to a factor of 3, consolidation from 6U to 1U for a factor 6 improvement, and reduce the power requirements of the SSDs (excluding servers, backplanes, fans, etc.) by a factor of 2.
Efficient Management at Scale
The ruler form factor is a unique and practical design that allows fully front serviceable storage, making it an ideal and highly practical solution in a data center environment. The ruler is hot pluggable, hot removable, fitted with LEDs to indicate the status of the device, and can be easily scaled to larger capacities.
The LEDs on the ruler are programmable, which can help to locate out of order drives, failed drives and free slots. Also, the LEDs indicate whether the data on the SSD is being read or whether data is being written on the SSD as well as illuminating the status (warnings, temperatures, failed drives).

Operationally Efficient Design
Up to 55% more thermally efficient than 15mm U.2
Consolidate racks to reduce Opex
System-based design approach enables more efficient solutions

Efficient Management at Scale
Front loading and hot swappable
Integrated power cycling enables remote, drive specific reboot
Expanded and programmable LEDs enable indication of more device states
Optimized dimensions for 1U sever designs
Cloud Storage
Scale Out Storage
Hard Drive Replacement
High capacity per drive and per server and per rack
Improved manageability and serviceability
Efficient thermal design
Reduced maintenance costs and total cost of ownership
Integrated enclosure, latch, LEDs
Shares new NVMe controller and improved firmware stack with DC P4500 with up to 32TB
Hot pluggable
Hot removable
Programmable LEDs
Indications of activity and status
---
P4800X Fitted with Intel® Optane™ – The World's Most Responsive Data Center SSD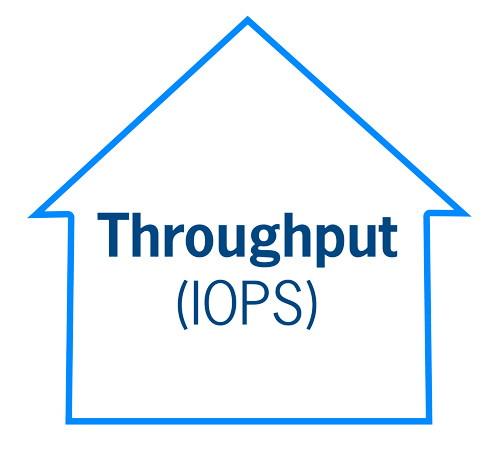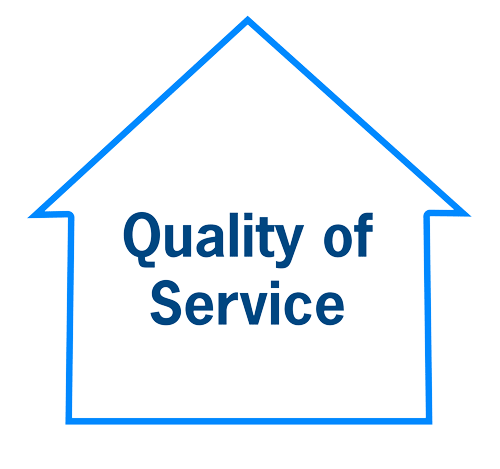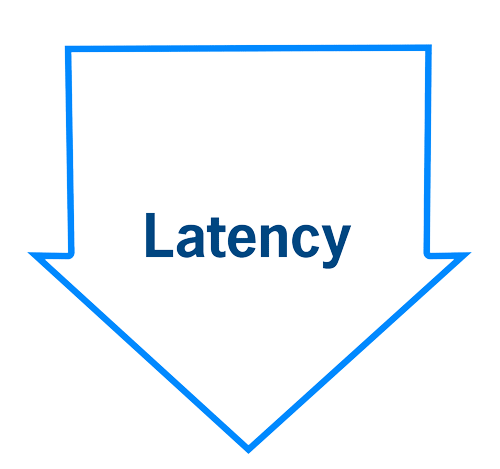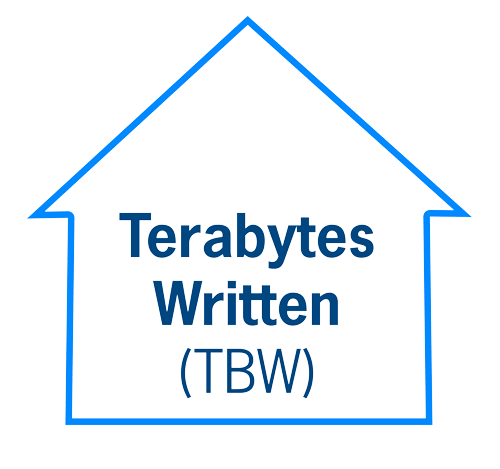 New Possibilities with Intel® Optane™ Technology
The Optane™ storage technology opens up new possibilities for high performance desktops and workstations, empowering professional users, creators and enthusiasts to do more. When you integrate the revolutionary architecture of 3D-XPoint memory media with a custom controller and firmware into an SSD, you get a storage device that delivers an industry leading combination of low latency, high endurance, quality of service and high throughput.
The innovative Optane™ solution is optimized to break through storage bottlenecks by providing a new data tier, which makes it an ideal technology to be deployed in a data center environment. For example, the powerful P4800X accelerates applications for fast caching and storage, increases scale per server and reduces transaction costs. All of which enables the customer to deploy bigger and more affordable datasets to gain new insights from larger memory pools.
82% of common workloads happen at a queue depth - the number of commands waiting to be processed by the central processing unit (CPU) - of four or less, which means that storage devices optimized for low QD performance tend to increase system performance. Intel® Optane™ fitted devices are designed to improve transfer inputs and output per second by a factor of 5-8 in comparison to NAND-based SSDs. Generally, Intel® Optane™ delivers faster performance across all ranges of queue depth as well as provides extremely low latency.
Write endurance determines how often and how thoroughly the flash media can be used. The estimated longevity of the flash device is based on the amount of data written and erased per day. Simply put, the endurance affects the life expectancy and costs of SSDs. Intel® Optane™ is designed for the most storage demanding workloads, providing industry-leading endurance. The P4800X is the flagship of endurance, as it is designed for high write environment and can withstand intense write traffic. With its extremely high endurance - 41 PetaBytes Written - the P4800X offers unprecedented value and longevity.
Deploying Intel® Optane™ in data centers showcases true ground breaking performance in realizing consistent response times under any workload. Performing random write operations on SSDs based on NAND flash technology require a significant amount of background media management, which can create noticeable delays to the read operations. The Intel® DC P4800X, fitted with Optane™ memory media, maintains consistent read response times regardless of the write throughput applied to the drive.
More data is expected to be generated and stored, which calls for faster data processing and deployable solutions that enable predictably fast service. Quality of service - a measure of delays in data access times - is measured by the read response time in microseconds over an extended period of time. Intel® Optane™ greatly reduces delays in data access time, which results in faster times to gain insight into the requested data.
DRAM extension
High availability enterprise storage system caching and metadata tier
In-memory database
NV buffer
Virtualization
Cloud
Key value stores
NoSQL
End-to-End data protection
Power loss protection
Enhanced management features
Temperature monitoring and logging
High Endurance Technology (HET)
AES 256bit hardware encryption
High throughput (IOPS/s)
Ultra-low latency
Excellent quality of service
Ultra-high endurance
Low Power & Space Conscious Form Factors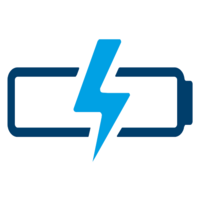 Security and Manageability Toolset + Intel® vPro™ Aligned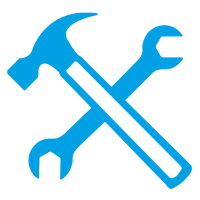 Intel® Quality and Reliability + 5 Years Warranty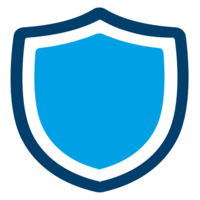 E5100s – An All-In-One Solution for Industrial and Embedded Clients
The E5100 is an all-in-one solution for semi-industrial, industrial and embedded clients. The E 5100 features the newest 64-Layer 3D NAND TLC (3-bits-per-cell) technology, which enables companies to scale for larger capacities while at the same time saving total cost of ownership, due to the low price per GB. Moreover, the customer can benefit from Intel®'s embedded series product availability and warranty. Product availability for Intel® embedded products is three years from when the product is available until the products last ships, which allows customers to scale, plan and fulfil their projects for an extended time-period. Regarding warranty Intel® offers up to 5 years of warranty as well as continuous technical and customer support, which makes the Intel® SSD E 5100 Series a great solution for any embedded application.
The Intel® SSD E 5100s is designed for the embedded usage segment and is an ideal SSD solution for Embedded Internet of Things (IoT) applications as well as semi-industrial applications that require robustness, extended safety features and perform in a consumer temperature range (0-70 degrees).
Semi-Industrial Target Applications:
Digital signage
Point-of-Sale
KIOSK
Vending
ATM
Medical technology
Security technology
Automation engineering
Access controls
Metering
Surveillance
Weighing technology
The efficiency of the Intel® SSD 5100s leads to a quicker transition of the system into idle mode, which can result in significant power saving
Security - the Intel® SSD E 5100s supports AES 256bit encryption, is eDrive compatible and features OPAL v2.0
The E 5100s comes with the "Extended Management Toolset - Intel® vPro SCS integration", which allows for convenient and simple on- and off-site maintenance of multiple systems
| | |
| --- | --- |
| Enhanced Power Loss Data Protection | No |
| Hardware Encryption | AES 256bit |
| High Endurance Technology (HET) | No |
| Temperature Monitoring and Logging | No |
| End-to-End Data Protection | Yes |
| Intel® Smart Response Technology | Yes |
| Intel® Rapid Start Technology | Yes |
| Intel® Remote Secure Erase | Yes |
Intel® SSD E 7000s – A Reliable Solution for your Embedded Application
The Intel® SSD E 7000s Series delivers great performance and Quality of Service combined with high reliability for computers with SATA interface capabilities. By combining Intel®'s 3D MLC NAND Flash Memory technology with SATA 3.0 interface support, the Intel® SSD E 7000s Series delivers outstanding performance values:
The industry-standard 2.5 inch form factor enables interchangeability with existing HDDs and native SATA HDD drop-in replacement with the enhanced performance, reliability, ruggedness, and power savings offered by an Intel® SSD.
The Intel® SSD E7000s is designed for the embedded usage segment and is an ideal SSD solution for Embedded Internet of Things (IoT) applications.
Among others the E7000s can be used in:
ATMs
Digital signage
POS
Kiosk
Vending machines
and many more...
Reliability - the Intel® SSD E 7000s meets or exceeds SSD endurance and data retention requirements as specified in the JESD218 standard.
Performance - High I/O and throughput performance as well as consistent I/O latency
Warranty and Guarantee - Up to 5 years of limited warranty and <5% performance degradation over product life
Proven end-to-end data protection
Thermal throttling
Temperature sensor
Inrush current management
Low power support
Power Loss Protection (PLI)- Tested and proven power-loss data protection with self-test
Temperature monitor and logging
AES 256bit encryption
Intel® Optane™ Memory with 3D-XPoint flash technology – the first all-new class of memory. Intel® Optane™ memory with 3D-XPoint creates a bridge between the DRAM and storage to deliver an intelligent, amazingly responsive computing experience. Intel® Optane™ Memory uses the latest Intel® Rapid Storage Technology developed for 7th Generation Intel® Core Processor based platforms. The Intel® Optane™ Memory module is architected with the high performance controller interface – Non Volatile Memory Express * (NVMe*) – delivering outstanding performance, low latency and quality of service.
Intelligent System Accelerator
Intel® Optane™ memory is a smart and adaptable system accelerator that adjusts to your computing tasks making everything you do faster, smoother, easier. It's intelligent software automatically learns your computing behaviors to accelerate frequent tasks and customize your computer experience.
5x faster launching of the web browser
67% faster launching of computer games
5.8x faster launching of emails
Up to 65% of improvement in the loading speed in games
Instant Response
Intel® Optane™ Memory delivers great responsiveness for your PC so you can start up quickly, search and find files up to 4x faster and save large files with virtually no lag.
Accelerated High-Capacity Storage
A high-capacity storage device, such as a Hard Disk Drive (HDD) coupled with Intel® Optane™ memory offers the best of both worlds: high speed acceleration and affordable, large storage capacity. Consequently, Intel® Optane™ Memory coupled with a HDD can result to similar or even better performance results in comparison to a Solid State Drive (SSD):
28% faster overall system performance
14x increased system performance for hard drive access
2x improvement in everyday task responsiveness
Hard Disk Drive (HDD) Acceleration to get SSD-like performance with HDD capacity
DRAM Displacement Opportunities
Dual Drive Displacement - Pair one Intel® Optane™ Memory with a large capacity Hard Disk Drive
Uses Intel®'s revolutionary new storage technology - 3D XPoint memory media
Ultra-low latency; exceptional responsiveness
Performance saturation at queue depth of 4 and lower
Very High Endurance Capabilities
Low power L 1.2 Support
New form factor support
PCIe 3.0x2 with NVMe interface
5 year limited warranty
Data-Drive Acceleration - increase the performance and responsiveness of a secondary SATA-based storage device
Application & File Pinning - customize responsiveness and end user flexibility to ensure what matters most stays accelerated
---
Rutronik Europe
Rutronik Elektronische Bauelemente GmbH
Industriestrasse 2
D-75228 Ispringen
Phone
+49 (7231) 801-0