Infineon's OPTIGA™ Product Family
Hardware-based Security Solutions for Embedded Applications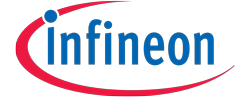 Rising Concerns about Embedded Security
Embedded systems are becoming ubiquitous. Due to trends such as the Internet of Things (IoT) and machine-to-machine communication (M2M) the number of connected devices and machines are increasing. Many of these - from small household appliances through large communication networks to complex, industrial automation systems - are controlled by special-purpose, embedded computing systems.
While this networking trend continues to gather pace - promising greater convenience and comfort for users and new business and service models for companies - security in this embedded world often lags far behind. Security vulnerabilities are rising dramatically as the attack surface widens and manufacturers struggle to protect sensitive data, IP and process integrity.
Meeting Today's Security Challenges with OPTIGA™
Our OPTIGA™ family of security solutions is designed for easy integration into embedded systems. These hardware-based security solutions scale from basic authentication functionality to advanced implementations meeting your individual and changing needs, while maximizing the return on your investment.
Both our OPTIGA™ Trust and OPTIGA™ TPM product families provide proven and reliable embedded security performance.
We understand that security needs are as varied as they are complex. Scaling from basic, single-function authentication solutions to robust certified security controllers for advanced platform integrity checks, we have developed the market's widest portfolio to support individual security needs across a broad market spectrum.
OPTIGA™ TPM in Networking Applications
Challenge:
As an entry point to corporate, home or industrial networks, routers and gateways are especially vulnerable to outside attacks. A failure to protect these entry points can result in the loss of confidential information as well as interrupted operations.
Solution:
Equipped with an OPTIGA™ TPM the network equipment enables the uninterrupted operation of the system as well as protecting sensitive information by relying on the standardized, certified OPTIGA™ TPM solutions. It can do so by performing integrity checks, securely managing the equipment remotely as well as supporting the encryption of information transferred through and stored in the router or gateway. With its extensive functionality it allows to satisfy both basic security needs as well as fulfilling complex requirements as your needs evolve.
OPTIGA™Trust E in Industrial Applications
Challenge:
Industrial automation, medical equipment, electronic components - plagiarism of capital equipment and consumer products endangers both, user experience and safety as well as companies business models and investments. According to the OECD, counterfeiting and piracy costs add up to around 638 billion US dollars annually.
Solution:
The new OPTIGA™ Trust E offers an easily implementable solution to protect manufacturers' valuable IP from being attacked, analyzed, copied and modified. Enhanced authentication as well as secured storage of software codes and product data improve network and supply chain management - particularly in the context of Industry 4.0. And help manufacturers of high value goods to safeguard their IP and protect their brand through assured quality and safety of their products.
Ease of Integration paired with Tailored Authentication Performance
Our OPTIGA™ Trust family of turnkey, programmable solutions gives you the benefit of easy and convenient integration whilst offering you the most suitable security level to protect your business model, process know-how and IP.
You can rely on OPTIGA™ Trust products to protect your embedded systems against counterfeiting, unauthorized products, intentional attacks and unintentional operator errors.
Protecting Integrity and Authenticity of Embedded Devices and Systems
OPTIGA™ TPM (Trusted Platform Module) offers a broad portfolio of standardized security controllers with secured key store and the support for a variety of encryption algorithms.
Securing Communication in the Internet of Things
OPTIGA™ TPM Application Notes
Infineon OPTIGA™ TPM SLB 9645 with Embedded Platform
Infineon OPTIGA™ TPM SLB 9645 / SLB 9670 TPM 1.2 with Embedded Platform Integration on a Raspberry Pi® 2
---
Join our Webinar and Discover the Benefits of Dedicated Hardware-based Security
Embedded devices are increasingly connected and as part of this connectivity increasingly at risk to be manipulated or attacked. Attackers can gain access to valuable information such as IP and customer data or can manipulate the system or even introduce counterfeit devices.
To prevent this, strong embedded security measures are needed. Attendees will learn the fundamentals of how embedded systems are at risk and what can be done to protect them.
Key Take-Aways
Learn the fundamentals of how embedded systems in Internet-of-things or industrial applications can be secured

Understand the benefits of dedicated hardware security in your system

Find out which type of security functions you need to protect your system and supply chain

Learn about Infineon Technologies security solutions and the OPTIGA™ family of security controllers
Watch our free of charge webinar: Security for the IoT – Do You Know How to Secure Your Embedded System?