Discover the latest Embedded Power IC MOTIX™ TLE989x now
With a vast portfolio of microcontrollers, sensors, transceivers, and more Infineon addresses the unique challenges of thermal management in EVs.
Keeping cool, going green: introducing next-level thermal management for electric vehicles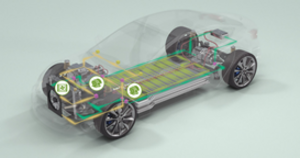 Efficiently managing heat is essential for maintaining the operation of electric cars, enhancing battery life, and ensuring passenger safety and comfort. Automotive thermal management has therefore become a crucial aspect of modern vehicles engineering to ensure the optimal performance and reliability.
With the rapid shift towards electric vehicles (EVs) the thermal management is presented with a unique set of new challenges for applications such as electric compressors, coolant pumps, blower motors, Heaters, HVAC flaps and expansion valves. Efficiently addressing these challenges is the key factor for a maximum range, performance, lifetime and safety of EVs.
MOTIX™ MCU embedded power ICs
Join our Webinar on November 7th!
Discover how to improve the efficiency and reliability of thermal management systems in Electric vehicles and learn about the best solutions from a semiconductor company's perspective.
Watch the webinar to maximize your electric vehicle efficiency.
Unveiling Advanced Thermal Management Solutions for Electric vehicles
For ensuring precise temperature regulation and distribution, smart actuators play a pivotal role in electric vehicle thermal management. Consequently, the careful selection of suitable semiconductors for this task is of utmost importance.
Application use: mechatronic BLDC motor drive applications, Oil pumps, pumps and fans
First embedded power featuring CAN FD communication integration power, microcontroller, gate driver and communication all in one chip
Includes ARM cortex M3 core, flash up to 256 kB + 32 kB, increased RAM up to 32 kB and CPU performance reaching 60 MHz.
Possibility of powering three-phase sensorless commutated pumps up to 1000W
Supports BOM reduction at system level, reducing the need of shunts or the number of angle sensors
Key products: TLE9891QTA61, TLE9891-2QTW60, TLE9893-2QTW62S
Enable high performance with Automotive SFET6 MOSFETs
Application use: Electric power steering, Engine cooling fan, Battery management, Brake Booster, DC-DC
Industry's lowest FOM

RDSon

with optimized

RDSon

for low conduction losses enabling high efficiency
Excellent thermal performance in compact form and small footprint - 5x6 mm2 SS08 leadless package
20% higher current capability (vs Best in Class SFET5)
Lower gate charge and Qrr for reduced switching losses
Key Products: IAUC120N04S6N006, IAUC120N04S6L005
Application use: Oil pump; Fuel pump; HVAC blower; Engine cooling fan; Water pump; High efficiency pumps and fans; Sensor-less and sensor-based BLDC motor application
Motor power stage including three Infineon MOSFET half-bridges
On-board connectors for BLDC motors and motor control sensors
PI filter and reverse polarity protection for the supply
Leveraging Infineon's extensive thermal management portfolio
The significance of smart actuators in temperature regulation and distribution cannot be overstated. Infineon's extensive offering of microcontrollers, sensors, transceivers, voltage regulators, intelligent motor control ICs and MOSFETs simplifies the design of optimal end-to-end system solutions and enables high smart actuators performance.
With Infineon you can choose between different integration levels best fit for your application requirements. MOTIX™ is your trusted partner and one-stop shop for low voltage motor control solutions with a scalability from low to high integration levels as well as a well-rounded support ecosystem with tools and software. (MOTIX Embedded Software Library for BLDC Motor Control)
Integrated system on chip solutions, known as MOTIX™ embedded power ICs, can deliver a best-fit set of functions to address thermal mangement applications, especially for 12 V. The highest degree of integration supports BOM reduction at system level, reducing the need of shunts or the number of angle sensors. Infineon patented current control mechanism supports step sequencing for fast Electromagnetic Compatibility (EMC) optimization, adhering to the market standards of CISPR25 Level 3 and Level 5.
Additionally, Infineon offers an ecosystem of design-in materials, empowering customers to streamline their activities and accelerating the development process with simulation tools, application notes and a complete development tool chain.
Elevating Efficiency and Performance for Electric Vehicle Coolant Oil Pumps
Infineon's newest featured products support in state-of-the-art market integrated solutions for mechatronic BLDC motor drive solutions. In addition to the MOTIX™ Embedded Power System-on-Chip motor drivers, Automotive MOSFET and Sensor portfolio as a perfect fit, the hardware can be combined with MOTIX™ Embedded Software Library for BLDC motor control to reduces your design-efforts significantly.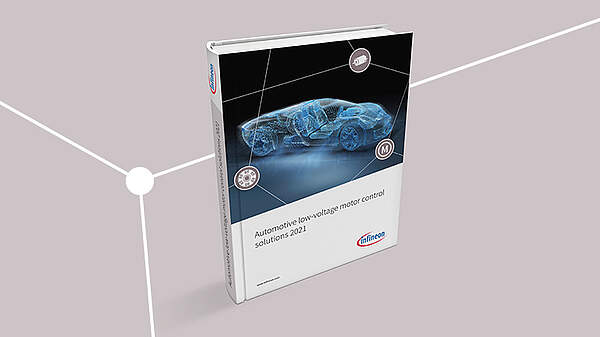 Low-voltage motor control solutions at a glance. Find the right component for your prototyping needs and read about the latest products and solutions for low-voltage motor control applications and more!
Thermal Management system in electric vehicle – a Semiconductor company's Perspective. Our portfolio includes a wide range of solutions for thermal management, including high-performance power semiconductors, sensors, and controllers. These solutions are designed to improve the efficiency and reliability of thermal management systems, leading to reduced power consumption and cost savings.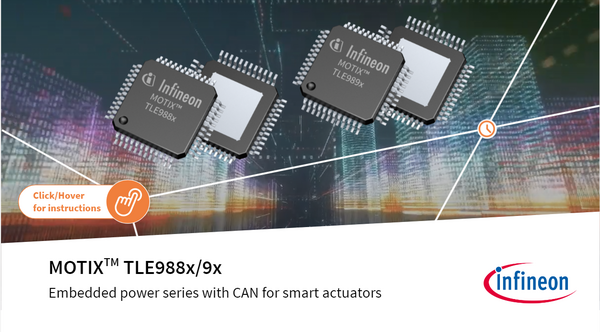 MOTIX™ TLE988x/9x with CAN for smart actuators. Learn the key features of MOTIX™ TLE988x/9x family. Get to know Infineon's evaluation tools offered for MOTIX™ TLE988x/9x.
---
OptiMOS™ Automotive MOSFET
IAUC100N04S6L020
OptiMOS™ 6 Automotive MOSFET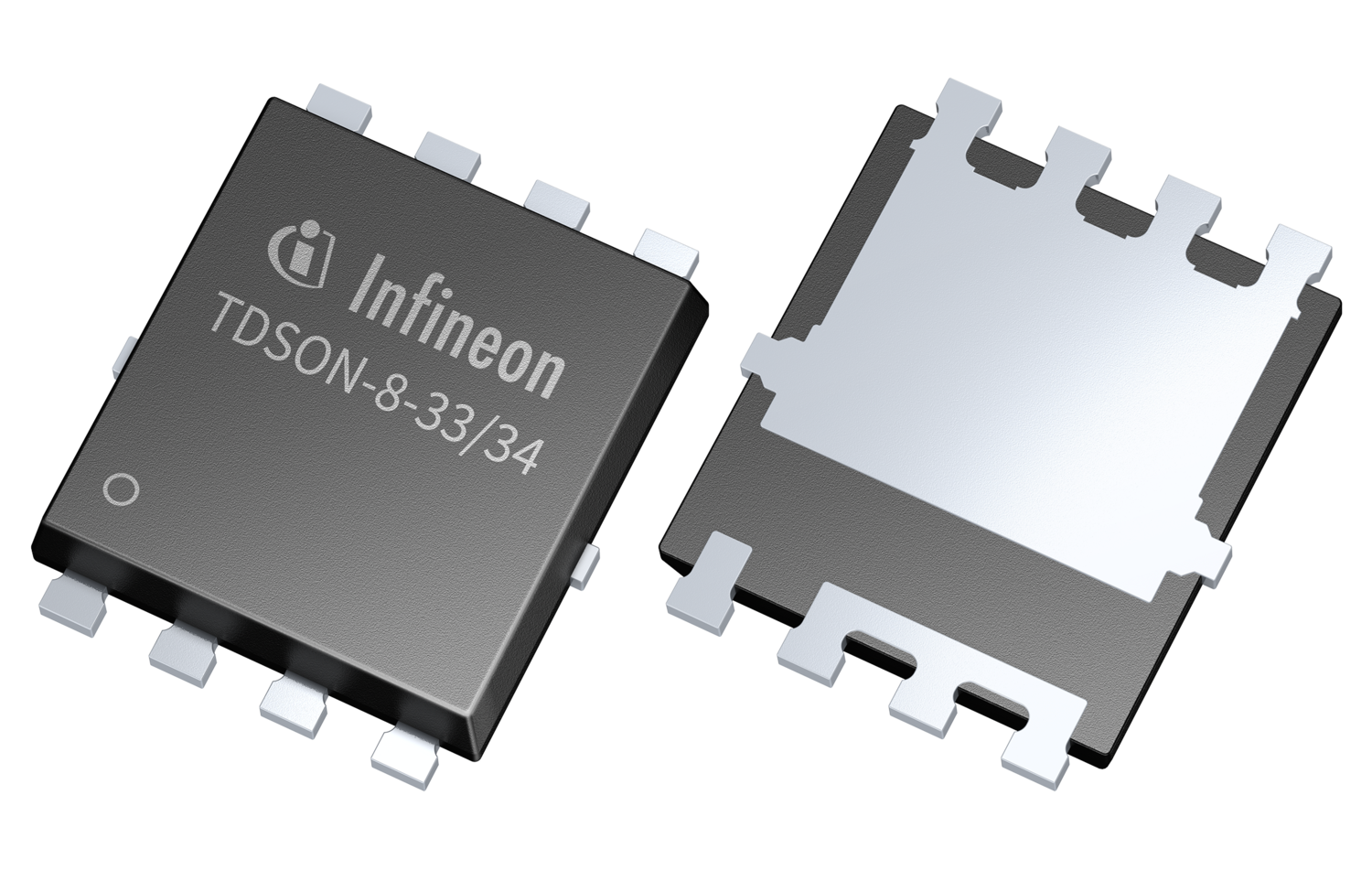 ---
Get in Contact with our Experts