Infineon's Modern Sensor Applications
Finding the Right Sensor for your Needs
The Importance of Sensors
Sensors have never been more important than in our present connected world. But demands on sensor design continue to increase. For example, devices like autonomous multicopters and fitness monitoring wearables, as well as indoor and outdoor navigation, require the high-accuracy sensing of static and/or dynamic air pressure. As these applications are typically found in battery-operated devices, it is also essential to combine this accuracy with optimized low-power operation and reliability across a range of operating conditions.
New Capacitive Sensor Technologies
New capacitive sensor technologies are enabling engineers to create accurate, miniaturized devices that satisfy demanding energy constraints and address reliability challenges. Webinar attendees will gain an understanding of Infineon's full range of sensor solutions, including:
The low-power, high-accuracy DPS310 for battery-powered and wearable applications
The TLx493D family of highly accurate, efficient 3D sensors suitable for both consumer and industrial applications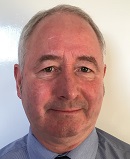 Mike Brown, Senior Staff Field Applications Engineer, Infineon Technologies AG
Mike Brown holds a BSc in Electrical and Electronic Engineering, a Post Graduate Diploma in Digital Techniques and an MBA. He has 15 years of experience in taking new semiconductor technologies to the market in the role of a Field Application Engineer supporting customers across Europe for Infineon Technologies. Prior to this for over a decade he held various posts in circuit design, project management and field support for navigation systems where multiple sensor types were the key components.
Markus Balke, Senior Marketing Manager Analog & Sensors, Rutronik
Rutronik Senior Marketing Manager Markus Balke is responsible for global product marketing of analog and sensor products. In this role he leads a team of product managers being responsible for worldwide strategy and product promotion of franchised manufacturers. Balke has a bachelor's degree in business administration.
DPS310 - Digital Barometric Air Pressure Sensor
DPS310 is a digital barometric air pressure sensor featuring an ultra-high resolution, high accuracy, low energy consumption and miniature size. DPS310 is specially designed to enable enhanced navigation experience, activity level monitoring, gesture recogni¬tion and weather monitoring.
The product provides ultra-high precision up to ±5 cm and ±0.06 hPa relative accuracy. The pressure sensing element is based on a unique capacitive principle, which is totally different from piezo-electric technology employed in most of the pressure sensors available in today's market. The capacitive technology enables high accuracy during temperature changes, which is important for smart phones, wearable and personal navigation devices.
Key Product Features
Operating pressure range: 300 … 1200 hPa

Operating temperature range: -40 … 85°C

Pressure level precision: ±0.006 hPa (or ±5 cm) (high-precision mode)

Pressure sensor relative accuracy: ±0.06 hPa (or ±0.5 m)

Temperature accuracy: ±0.5°C

Pressure temperature sensitivity: < 0.5 Pa/K

Measurement time: Low-power mode: 3 ms

Average current consumption: Low power: 3 μA (1 measurement/sec.)

Standby: < 1 μA

Supply voltage: VDDIO: 1.2 … 3.6 V, VDD: 1.7 … 3.6 V

Operating modes: Command (manual), background (automatic), standby

Interface: I2C and SPI (both with optional interrupt)

Miniature package 8-pin LGA: 2.0 x 2.5 x 1.0 mm.
Internet of Things
Wearable electronics e.g. health and sports gadgets
Indoor navigation floor detection e.g. in shopping malls and parking garages
Outdoor navigation in personal navigation devices
Dead-reckoning e.g. in tunnels
Local weather station
Ultra-high precision
High measurement accuracy over wide pressure and temperature range
Easy implementation due to compact size
Low system level energy consumption due to FIFO
3D Low Power Magnetic Sensors
The TLx493D sensor offers accurate three-dimensional sensing with extremely low power consumption in a small 6-pin package. Capa­ble of detecting the magnetic field in the x, y, and z-direction, the sensor is ideally suited for the measurement of:
TLV493D-A1B6
For consumer and industrial markets
Thanks to its small package and low power consumption, the TLV493D-A1B6 can be used in new applications, replacing potentiometer and optical solutions. Featuring contactless position sensing and high temperature stability of the magnetic threshold, this system con­cept keeps getting smaller, more accurate and more robust.
3D magnetic sensing
Integrated temperature sensing
Low current consumption0.007 μA in power-down mode
10 μA in ultra-low power mode
2.3 V to 3.5 V operating supply voltage
Digital output via a 2-wire standard I2C interface
Bx, By and Bz linear field measurement up to ±130 mT
12-bit data resolution for each measurement direction
Resolution of 98 μT/LSB
Operating temperature range from -40°C to 125°C
E-meters e.g. anti-tampering
Joystick e.g. finger, thumb, hand joystick
Control elements e.g. white goods, multifunction knob
| | | | | |
| --- | --- | --- | --- | --- |
| Type | Temperature range | Qualification | Package | Ordering Code |
| TLV493D-A1B6 | -40°C...125°C | JESD47 | TSOP6 | SP001286056 |
Our Hall- and GMR-based magnetic speed sensors are designed to measure speed in safety and powertrain applications such as speedometers, ABS, camshafts/crankshafts and automatic transmissions. We offer a broad range of options to ensure the perfect fit for individual customer applications. By integrating the magnetic Hall or GMR sensing cell and the signal processing unit on a single chip, we deliver optimum performance and cost savings.
TLE4922
Highly robust, easy-to-use mono-Hall speed sensor with twist-independent mounting
This sensor is specially designed to provide an easy-to-use, robust and cost-effective solution for vehicle or industrial speed sensing applications. The TLE4922 can therefore be back-biased using a simple, low-cost bulk magnet, while providing a good air gap performance and switching accuracy. Its hidden adaptive hyster­esis and calibration algorithm enables good accuracy over air gap jumps and immunity to vibration and run-out events.
Thanks to its mono-cell design, the TLE4922 is the perfect choice for applications requiring twist-independent mount-ing. As a result, the TLE4922 is well suited for replacing passive sensors, such as Variable Reluctance Sensors (VRS), in automotive and 2-wheeler applications by providing the user with higher accura­cy and a better jitter performance. The improved EMC, ESD and temperature robustness are perfectly suited for use in the harsh environmental conditions prevalent in automotive or dedicated industrial applications. The TLE4922 comes in a thin 4-pin SSO-4-1 package using a standard 3-wire voltage interface.
Large operating air gap capability
Twist-independent mounting
Hidden adaptive hysteresis
Low current consumption
Reverse magnetic polarity capability
Advanced protection technology
Reverse voltage protection at Vs-pin
Short-circuit protection
Overtemperature protection
Wide operating temperature ranges of -40°C ≤ Tj ≤ ±150°C
High ESD robustness up to ±4 kV HBM
3-wire PWM voltage interface
2-wheeler - vehicle speed, engine speed, transmission speed
Automotive vehicle speed
Industrial applications
| | | |
| --- | --- | --- |
| Sales name | Description | Order Code |
| TLE4922-XAN-F | TLE4922 mono-Hall speed sensor | SP001106758 |
---