SD and microSD Memory Cards
High sustained performance and endurance
Swissbit's Industrial SD and microSD Memory Cards series are designed for high sustained performance and endurance and are manufactured and tested in Swissbit's own fab to withstand extreme environmental conditions.
Typical application
Surveillance / Dashcam
Data logging
Boot media
Entertainment systems
Navigation systems / Head unit / Dashboard
Black box / Crash recorder
Features
Proven Power Fail Safety
Sophisticated Wear Leveling & Bad Block management
Autonomous Data Care Management
Robust molded package with 30μm gold contacts
Page based firmware management
Swissbit Life Time Monitoring Tool (SBLTM) for detailed life time monitoring analysis
Security option
Most cards are also available with Security features
Data Protection Edition (DP) with configurable access rights
Standard Edition (SE), Voice Edition (VE), Premium Edition (PE) and WORM cards with integrated secure element
Upgrade Security level whenever higher requirements occur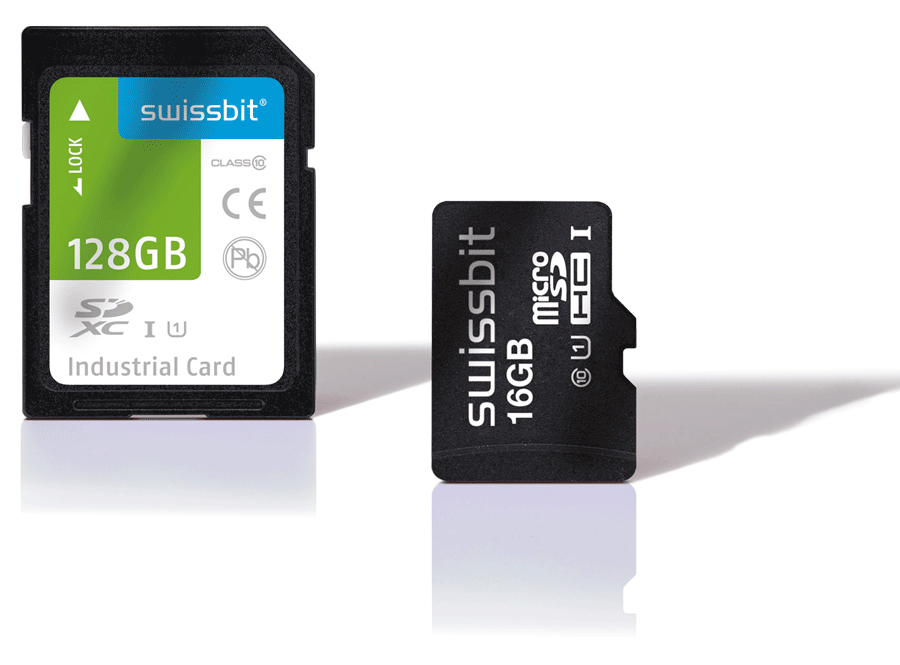 ---
durabitTM / everbitTM
Swissbit durabit™ and everbit™ products use architectural improvements such as page based FTL to decrease the Write Amplification Factor (WAF) for small writes. This enables unprecedented endurance and random write performance in critical use cases.

durabitTM: Multi Level Cell (MLC) optimized for cost sensitive data logging applications. Increases the performance and endurance up to 100 times in comparison to standard solutions.

everbitTM: pseudo Single Level Cell (pSLC) for seventime more endurance than Multi Level Cell (MLC), optimized for write intensive applications. Increases the card life time and supports highest random access performance.
What Makes This Supplier Unique?
Swissbit:
Own factory and 25 years of experience
Full-in-house COB (Chip-on-board) production
Best NAND Flash and highest product quality
Industrial temperature support
Frozen BOM (Bill of material) and firmware revision
Longterm availability
ISO 9001:2015, IATF 16949, ISO5001:2011 and ISO 14001:2015 certification
Swissbit SD Memory Card Product Range
Industrial SD Memory Card
MLC, SD 3.0, Class 10, UHS-I, U1
FTL: Page based mapping (durabitTM)
Optimized for read intense applications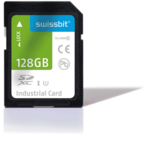 ---
Industrial SD Memory Card
SLC, SD 3.0, Class 10, UHS-I, U1
FLT: Block based mapping
Optimized for data streaming applications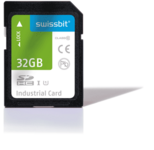 ---
Industrial SD Memory Card
SLC, SD 3.0, Class 10, UHS-I, U1
FTL: Page based mapping
Optimized for intensive small data logging applications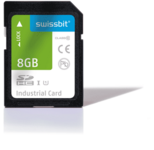 ---
Industrial SD Memory Card
pSLC, SD 3.0, Class 10, UHS-I, U3
FTL: Page based mapping (everbitTM)
Best cost compromise for data logging applications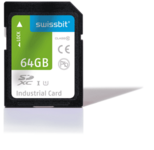 ---
Swissbit microSD Memory Card Product Range
Industrial microSD Memory Card
MLC, SD 3.0, Class 10, UHS-I, U1
FTL: Page based mapping (durabitTM)
Optimized for read intense applications
---
Industrial microSD Memory Card
SLC, SD 3.0, Class 10, UHS-I, U1
FLT: Block based mapping
Optimized for data streaming applications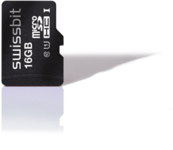 ---
Industrial microSD Memory Card
SLC, SD 3.0, Class 10, UHS-I, U1
FTL: Page based mapping
Optimized for intensive small data logging applications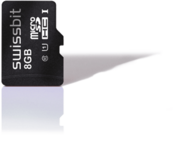 ---
Industrial microSD Memory Card
pSLC, SD 3.0, Class 10, UHS-I, U3
FTL: Page based mapping (everbitTM)
Best cost compromise for data logging applications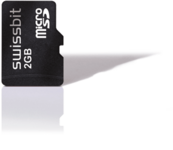 ---