Infineon's High Voltage (HV) Superjunction (SJ) MOSFETs- CoolMOS™ P7 Families
Leading Power MOSFET Technologies Combining Highest Efficiency and Outstanding Ease-of-use
Infineon's CoolMOS™ P7 families offer highly optimized high-voltage MOSFETs addressing various SMPS applications over a wide power range from as low as 5 W all the way up to 10 kW and beyond. The CoolMOS™ P7 series provide highest efficiency and outstanding ease-of-use, in terms of ringing, EMI, and controllability via RG, at an attractive price, perfectly matching customers' performance, usability and pricing demands.
CoolMOS™ P7 products are available in three voltage classes - 600 V, 700 V and 800 V. The 700 V and 800 V CoolMOS™ P7 product families have been developed for flyback based low power SMPS applications including adapter and charger, lighting, audio SMPS, AUX and industrial power. The latest 600 V CoolMOS™ P7 family completes the portfolio by offering the third voltage class of the P7 platform, which in contrast to the 700 V and 800 V series targets not only low power but also high power SMPS applications such as solar inverters, server, telecom and EV charging stations, and is fully optimized for hard as well as soft switching topologies.
600 V CoolMOS™ P7 - The Perfect Combination between High Efficiency and Ease-of-use
The new 600 V CoolMOS™ P7 is Infineon's best-balanced high voltage MOSFET solution, offering the perfect combination of highest performance, excellent ease of use, and competitive price. This latest CoolMOS™ family achieves up to 1.5 percent increased efficiency and 4.2°C lower MOSFET temperature versus competitor offerings. 600 V CoolMOS™ P7 products are qualified for both standard and industrial grade allowing the customer to choose the correct type for the application requirements.
Real application measurements have shown that the 600 V CoolMOS™ P7 enables improved efficiency in combination with smooth wave forms, outstanding ESD protection and improved hard commutation ruggedness in comparison with the most common competitor devices. These features enable the design engineers to easily design their power converters with high efficiency, high power density, high robustness and cool thermal behavior.
600 V CoolMOS™ P7 Benefits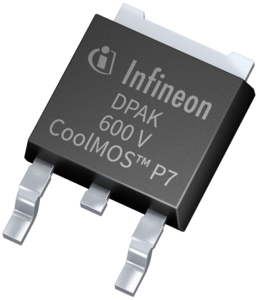 Suitable for hard and soft switching (PFC and LLC)
Ease-of-use and fast design-in through low ringing tendency
Cool thermal behavior due to low switching and conduction losses
Higher manufacturing quality due to > 2 kV ESD protection
Increased power density solutions enabled by using products with smaller footprint
Suitable for both standard and industrial grade
LCD TV
Industrial SMPS
Server
Telecommunication
EV Charging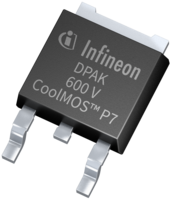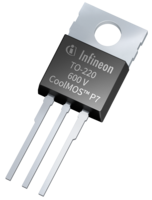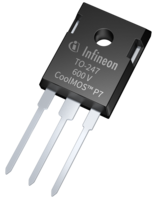 | | | | |
| --- | --- | --- | --- |
| RDS(on)[mΩ] | DPAK | TO220 | TO247 |
| 37 | | | |
| 180 | | | |
| 360 | | | |
---