Melexis - Current Sensing Made Easy
MLX91210 - Integrated, Calibrated and Compact
For low to medium currents engineers have typically achieved the current sensing function with shunt resistors or current transformers. Shunt resistors require an additional amplifier making this a multi-component solution and due to the sensing principle of generating an intended voltage drop over a few milliohms series resistor, this results in relatively high thermal losses. For high accuracy either more expensive shunts are needed or an end of line calibration step is required. A current transformer on the other hand is more bulky, and is limited to sensing only AC signals.
To address these shortcomings, the MLX91210 offers a fully integrated and factory calibrated Hall-based solution which provides fast and accurate results. It combines the sensing element, signal conditioning and voltage isolation in a single SMD package.
Ideal for modern and compact applications, this "Plug and Power" concept does not need any additional components such as a shunt resistor or ferromagnetic core. The fast analog output is proportional to the AC or DC current flowing through the leadframe of the IC. No calibration is required in the application.
Inside the package, the magnetic flux density is sensed differentially by two sets of Hall plates giving excellent stray-field immunity. The close proximity of the Hall plates to the current conductor overcomes the absence of a ferromagnetic concentrator and the factory calibration ensures an accurate signal over temperature.
The small form factor of the surface mount sensors saves board space and cost, while maintaining basic isolation ratings as high as 2.5kVAC between the primary and secondary side package leads.
For currents up to 30ARMS and transients up to 75A and beyond
From DC to 100kHz, 5µs response time
Factory calibrated plug & power solution
Immune to external fields and cross-talk inherent to dense power electronics
Low electrical resistance: 0.7mΩ
Rated voltage isolation up to 2.5kVRMS
Operating temperature -40 to 125°C
Appliances, energy, industry
Power monitoring and metering
Motor current control, load detection
Inverters
Overcurrent detection
---
---
Need to Measure Higher Currents?
Sensing Technology

Hall Effect

Mounting

Through-Hole Non-intrusive

Ferromagnetic Concentrator

Core-type - External

Factory Calibration

mV/mT

End Of Line [EOL] Reprogramming

Correction of field factor "mT/A" variation needed:

On-Chip or External Micro
Degraded Accuracy (no correction)

Current Sensing Range

10-5000A

Cross-talk Immunity

Core

Series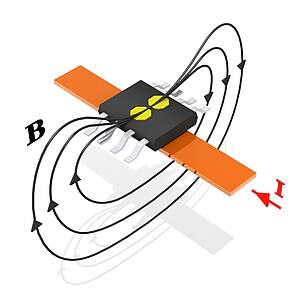 Sensing Technology

Hall Effect

Mounting

Surface-Mount Non-intrusive

Ferromagnetic Concentrator

Integrated Magnetic Concentrator (IMC)

Factory Calibration

mV/mT

End Of Line [EOL] Reprogramming

Correction of field factor "mT/A" variation needed:

On-Chip or External Micro
Degraded Accuracy (no correction)

Current Sensing Range

30-1000A

Cross-talk Immunity

Shield

Series