Nordic Semiconductor – Specialist in Low Power Wireless Technology
Who is Nordic Semiconductor?
Nordic Semiconductor is a Norwegian fabless semiconductor company specializing in wireless communication technology that powers the Internet of Things. Nordic was established in 1983 and has more than 1,000 employees across the globe. Nordic's award-winning Bluetooth® Low Energy solutions pioneered ultra-low power wireless, making them the global market leader. The company's technology range was later supplemented by ANT+, Thread and Zigbee, and in 2018 they launched their low-power, compact LTE-M/NB-IoT cellular IoT solutions to extend the penetration of the IoT.
The Nordic portfolio was further complemented by Wi-Fi® technology in 2021, which now makes the company one of just a few suppliers offering all three of the world's most popular wireless IoT technologies; Bluetooth LE, cellular IoT, and Wi-Fi; covering short-, mid-, and long-range wireless connectivity.
They built their market reputation by supplying leading-edge wireless technologies supported by development tools that shield the designer from RF complexity, allowing anyone with a bright idea to build innovations based on the IoT platform. Today, their award-winning, high-performance, yet easy-to-design-in, Bluetooth® LE solutions are used by the world's leading brands in a variety of products, including wireless PC peripherals, gaming, sports & fitness, mobile phone accessories, consumer electronics, toys, healthcare, and automation. Nordic is a member of the ANT+ Alliance, Bluetooth® SIG, Thread Group, CSA, Wi-Fi Alliance, and GSMA.
---
Long-Range Wireless Technology – Low Power Cellular IoT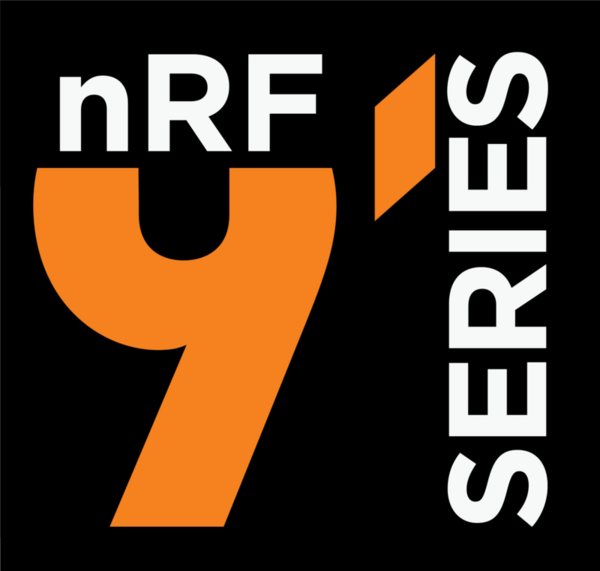 nRF9160 – Low power SiP with integrated LTE-m/NB-IOT modern and GNSS
The nRF9160 is a compact, highly integrated System-in-Package (SiP) that makes the latest low power LTE technology and advanced processing and security accessible, and easy to use, for a wide range of single device low power cellular IoT (cIoT) designs.
Fully integrated SiP for cellular IoT
Multimode LTE-M/NB-IoT modem with GNSS
700-2200 MHz LTE band support
Certified for global operation
Dedicated application processor and memory
64 MHz Arm Cortex-M33
1 MB Flash + 256 kB RAM
Arm TrustZone + Arm CryptoCell
Logistics and asset tracking
Smart city & smart agriculture ­
Predictive maintenance & industrial
Wearables & medical
---
---
Short-Range Wireless Technology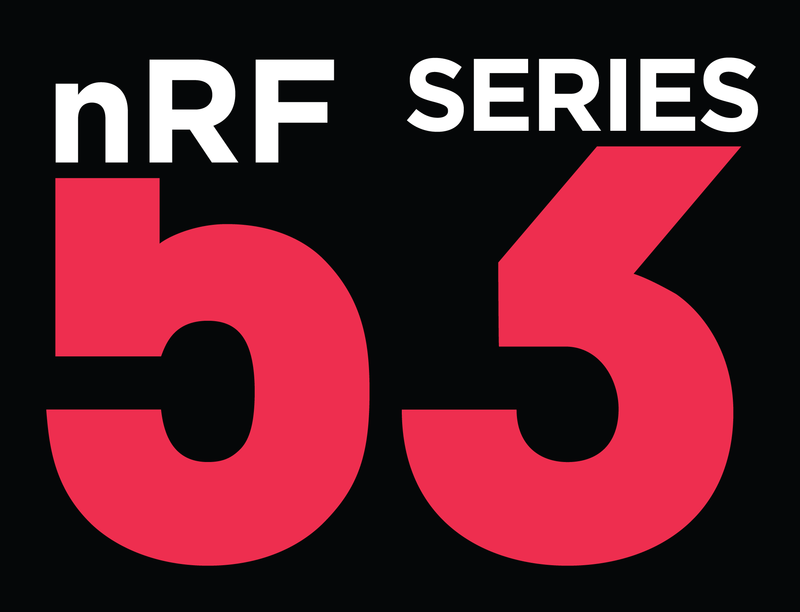 nRF5340 - Dual processor SoC supporting Bluetooth® 5.3, Bluetooth® mesh, NFC, Thread & Zigbee
The nRF5340 is the world's first wireless SoC with two Arm® Cortex®-M33 processors. It is truly secure, and the combination of two flexible processors, the advanced feature set, and an operating temperature of up to 105 °C, make it the ideal choice for professional lighting, advanced wearables, and other complex IoT applications.
High-performance application processor

128/64 MHz Arm Cortex-M33 with FPU & DSP instructions
1 MB Flash + 512 kB low leakage RAM
8 kB 2-way set associative cache
Fully-programmable network processor

64 MHz Arm Cortex-M33 with 2 kB instruction cache
256 kB Flash + 64 kB RAM
Ultra low power
A truly secure SoC

Trusted execution with Arm TrustZone
Root-of-trust with Arm CryptoCell-312
Ultra-low-power 2.4 GHz multiprotocol radio

Bluetooth® Direction Finding
Long Range
Bluetooth® mesh, Thread and Zigbee
3.2 mA in TX (0 dBm) and 2.6 mA in RX
-97.5 dBm RX sensitivity
NFC

Full range of digital interfaces with EasyDMA y Full-speed USB
96 MHz encrypted QSPI for external memory32 MHz high-speed SPI for displays and fast sensors
-40 to 105 °C extended operating temperature
1.7 V to 5.5 V supply voltage range
Professional lighting
Industrial
Advanced wearables
Healthcare & Medical
Smart Home
Asset tracking and RTLS
Direction Finding
Automation
Gaming VR + AR
Mesh Networks
---
---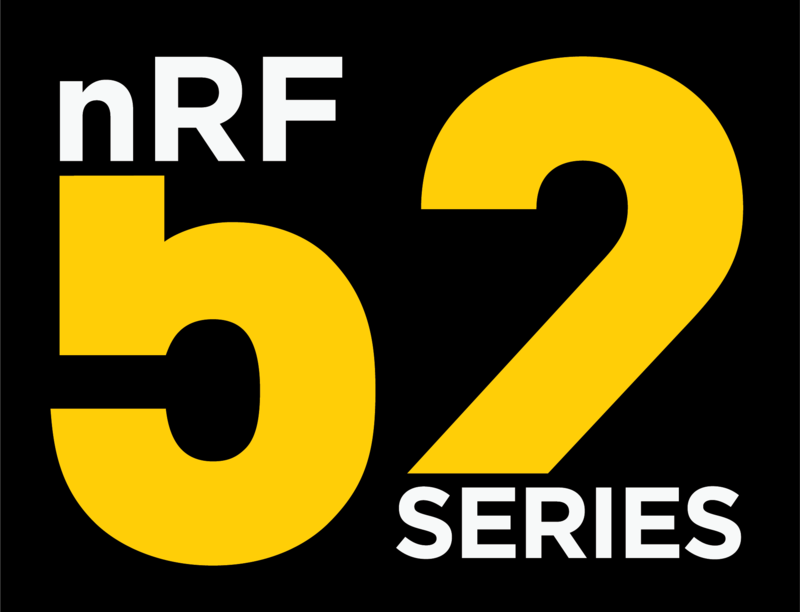 Multiprotocol SoCs supporting Bluetooth 5.3, Bluetooth mesh, NFC, Thread and Zigbee
The nRF52 Series consists of seven multiprotocol Bluetooth 5.3 SoCs that integrate a powerful yet efficient 64 MHz Arm Cortex-M4 CPU. Flash memory range from 192 kB to 1024 kB while RAM range from 24 kB to 256 kB. The nRF52 Series offers simpler cost-effective options and highly-advanced options, all with ultra-low power consumption.
---
---
nRF21 Series – RF front end module (FEM)
The nRF21540 is an RF front end module (FEM) that improves range and connection robustness for Nordic Semiconductor's shortrange wireless portfolio. As a complementary device, the nRF21540 is a "plug and play" range extender, which offers enhanced link robustness using an integrated low-noise-amplifier.
---
Supports

Bluetooth® Low Energy (incl. Bluetooth® mesh)
Thread and Zigbee (802.15.4)
Proprietary 2.4 GHz
Adjustable output power in small increments up to +21 dBm
+13 dB receive gain with 2.5 dB noise figure
Two antenna ports for antenna diversity
Control interface via GPIOs, SPI, or a combination
-40°C to +105°C operating temperature range
1.7 V to 3.6 V input supply range
4 x 4 mm QFN16 package
When combined with an nRF52 or nRF53 Series SoC:

Up to 16x range increase
-100 dBm RX sensitivity (Bluetooth® LE, 1 Mbps)
Current consumption:

TX tuned to +20 dBm: 115 mA
RX: 4.1 mA
Asset tracking and RTLS
Professional lighting
Smart Home
Industrial
Toys
Audio
---
---
The nPM1100 is a dedicated power management IC (PMIC) with dual-mode configurable buck regulator and integrated battery charger. It is designed as a complementary component to Nordic's nRF52 and nRF53 Series SoCs to ensure reliable power delivery and stable operation, whilst maximizing battery life through high efficiency and low quiescent currents.
---
Ultra-small form factor PMIC

2.075 x 2.075 mm WLCSP package

400 mA battery charger

Automatic charging mode
For Li-ion and Li-Polymer batteries
Battery thermal protection

Highly efficient regulator

Up to 92 % power conversion efficiency
Hysteretic and PWM mode
Selectable output voltage
150 mA current limit

Input regulator with USB support

SDP, CDP, DCP port detection
Overvoltage protection

Ship mode that disables power output
Drivers for charge and error LEDs
-40°C to 85°C operating temperature
Wearables
Remote controls
Personal medical devices
Smart home sensors
Computer peripherals
---
---
The Power Profiler Kit II is a standalone unit for measuring and optionally supplying all Nordic development boards and additional hardware. It enables easy and affordable power measurements for wireless product development on all Nordic DKs, in addition to aforementioned external hardware.
---
Current measuring range between 200 nA and 1 A
Measurement resolution between 100 nA and 1 mA
Ampere meter mode and source mode
Source mode includes a built-in programmable regulator with an output range between 0.8 V and 5.0 V and output currents of up to 1 A
100ksps sampling rate
8 digital inputs for low-end logic analyser support
nRF Connect supported
Power debugging of embedded applications
Estimation of battery lifetime of completed application
---