---
Infineon Drive Systems Solutions
We live in a mobile world filled with electrical devices. Behind their innovation, there is an increasing need for designers and engineers to find solutions that are more efficient, smaller, and less costly. Infineon's broad portfolio of innovative power semiconductor solutions offers exactly what is needed for the compact, cost effective development of highly reliable and efficient solutions for drive applications.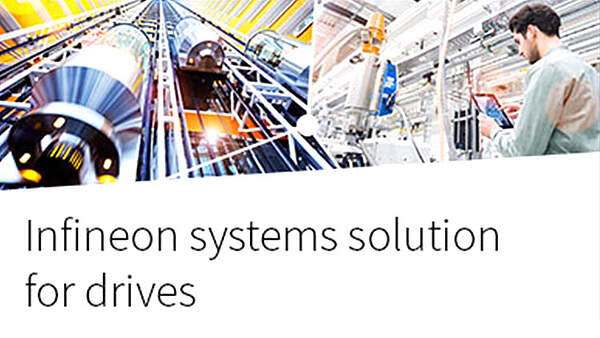 ---
Superb performance for battery powered motor drives! Based on industry-leading technology, highest quality and manufacturing expertise, Infineon provides a variety of innovative power semiconductors which enable designers to develop highly reliable and efficient solutions. Through its comprehensive portfolio, Infineon addresses a broad range of battery powered motor control applications, such as power tools, forklifts, multicopters and all kinds of light electric vehicles including e-skateboards, e-scooters, pedelecs, low speed cars, and many others.

Not sure which product is the right fit for your application? Check out Infineon's solution matrix!
Home and Building Automation
Depending on the level of integration and power to be handled, Infineon offers a variety of IPMs available in different packages and diverse voltage- and current classes. These IPM portfolios include CIPOS™ Nano, CIPOS™ Micro and CIPOS™ Mini families.
CIPOS™ Nano - 3-phase or Half-bridge with MOSFETs
---
CIPOSTM Nano is a family of ultra-compact, patent pending, power modules for high efficiency and light industrial applications, including compressor drives for automation systems.
Benefits:
60% smaller footprint than existing 3-phase motor control power IPMs
No need for an external heat sink
CIPOS™ Micro - Solution for Low Power Motor Drive Applications
---
A family of compact IPMs for low power motor drive applications including fans, pumps, air purifiers and refrigerator compressor drives.
Benefits:
DC current ratings ranging up to 4.6A to drive motors up to 90W without heatsink and up to 250W with heatsink
Available in both through-hole and surface mount packages
CIPOS™ Mini - Intelligent Power Modules (IPM) 600V / 4A−30A
---
CIPOS™ Mini modules are designed to control AC motors in variable speed drives for applications from 4A up to 30A such as air conditioning, washing machines, refrigerators, vacuum cleaners, compressors and industrial drives.
Benefits:
Simplified power design
Reduced time-to-market